Project Boz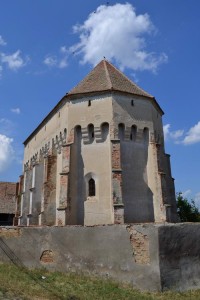 The towerless church must be preserved and the old school in danger of collapse must be secured!
Description: The old school is in danger of collapsing, the bricks on the foundation are strongly damaged through weather conditions. Bird feces have a corrosive effect on the roof structure and the ring wall is slowly collapsing. With a relatively small financial effort these and further damages can be taken care of.
Measures: Securing the roof structure against bird feces, cleaning and open-space work, emergency securing of the school building, repairs on the ring wall and further examinations.
Current donations:

2.423,90 EUR (18.01.2018)
Necessary amount: 10.000 EUR
Activities
In the mid-90's Daniel Schuster, a Transylvanian Saxon from Boz began saving the towerless fortification of his home town from decay. He established a foundation and collected donations. In 1998 significant work on the roofs and ring wall were carried out thanks to his dedicated work.
In the meantime almost twenty years have passed. Time has taken its toll on the substance of the fortification and further preservation measures must be taken.
The Fortified Churches Foundation is impressed by Mr. Schusters dedication and would like to support the work on the fortified church through the roof and preservation programme. A short expertise on the current state and the preparation for first security measures are currently being developed.
Our Partners

Daniel Schuster, stiftung_agenda2023@yahoo.de