Project Movile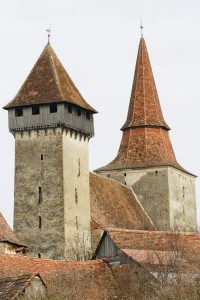 The romantic fortified church of Movile must be protected against further decay and be revived!
Description: Despite the constant maintanance in the past years there is a lack of fundamental conservation work. The damage is partly severe: the walls around the north tower (the bacon tower) are threatening to collapse, the entire tiled roofing is damaged, there are great problems with ground humidity that is destroying the walls.
Measures: Repairs of the entire roofing, urgent measures on the north tower, improvement of the rain water draining, works in the open spaces and security measures
Current donations

(27.03.2018): 1.120 EUR
Necessary amount: 4.500 EUR
Activities
Since 2008 the HOG (hometown community of Saxons from Movile living mainly in Germany) has been active in Movile. Thanks to their engagement the parish house has been restored and parts of the fortification were repaired.
In 2015 an international group of active and committed landscape designers and architects have become aware of the fortified church, the village and the landscape surrounding it. In the same year they founded the German association Churchfortress e.V. Friends of Hundertbücheln – Movile. Together with the hometown community Movile they wish to save the Saxon architectural heritage from decay and want to bring life back into the fortification. Churchfortress e.V. also works in the field of protection of nature and cultural landscape and are looking to improve the open space design in Romania.
The Fortified Churches Foundation supports both associations. Together the acute decay of the historically significant fortification is to be stopped. In autumn of 2015 a short expertise was written and some minor repairs were carried out.
The former teacher's house accross the street of the fortified church is being restored by Churchfortress e.V. in the next years and will serve as a project centre. In 2015 the first repairs on the roof successfully took place. The Fortified Churches Foundation is active as a consultant and planner. In July of 2016 a workshop for carpentry and traditional timber connections and joints was carried out.
The hometown community Movile was able to carry out smaller repairs on the community hall besides offering their financial aid to repair the northern tower of the ring wall in 2015.
Fortunately we were able to include the fortified church of Movile in a 2-year restoration project funded by the U.S. Ambassadors Fund for Cultural Preservation (AFCP), supporting the preservation of cultural sites and historic monuments. The implementation of the project begins in 2017 and updates to the progress of the work will be posted here on our website.
Our Partners

HOG Hundertbücheln, Mr Hermann Ongert – www.hundertbuecheln.de (German only)
Churchfortress e.V. Friends of Hundertbücheln – Movile – www.churchfortress.org