Şura Mică / Kleinscheuern

The church in Șura Mică remained almost unchanged after the construction phases between the 13th and 15th century. It was built as a Romanesque three-aisles basilica, destroyed in 1493 during the Ottoman raids and erected again before 1506. The chancel with mullioned windows and ribbed vault originate from that time. The central nave was covered with a barrel vault with a ribbing net and the western tower was equipped with a defence level. The western and northern portals date back to the same period, as well as the small defence tower above the northern entrance securing the church from the side of the valley.
Only some ruins of the defence wall built in the same time are still preserved. The interior was only slightly changed as time went by. At the beginning of the 17th century, the church received its Baroque altar and the galleries. The pulpit and the organ however were only built later on, in 191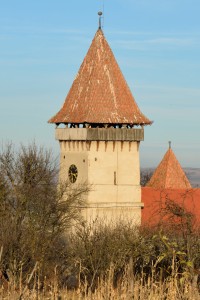 3.
Place and surroundings
Walking through the village the tourist will go through "The Sacred Hole", then past "The Wolf's Fountain" and "The Bear's Lodge", through "The Valley of Roses", finally reaching "The Sunny Side". These fabulous street names add to the place a magic that encourages dreaming and birth of fairy-tales.
It is said that one evening at the gathering of the women in the village, a young woman who was famous for her courage swore to go to the cemetery at midnight to cook pancakes on a certain grave. Her lover found out about this and, to play a trick on her, hidden under the ground of the grave she had in mind. Shortly after that, the young woman appeared, lit the fire, poured the oil in the pan and started heating it. Suddenly, the ground was shaking and gloomy sounds came from below her feet. Without loosing her temper, she strongly grabbed the pan and poured the hot fat over the head of the ghost, her lover in fact, which costs the man his life.
Obviously, courage without wisdom does not always have good results. But a walk through Şura Mică will certainly have very pleasant consequences.