Monument Preservation
"It is essential to the conservation of monuments that they be maintained on a permanent basis." (Charter of Venice, 1964)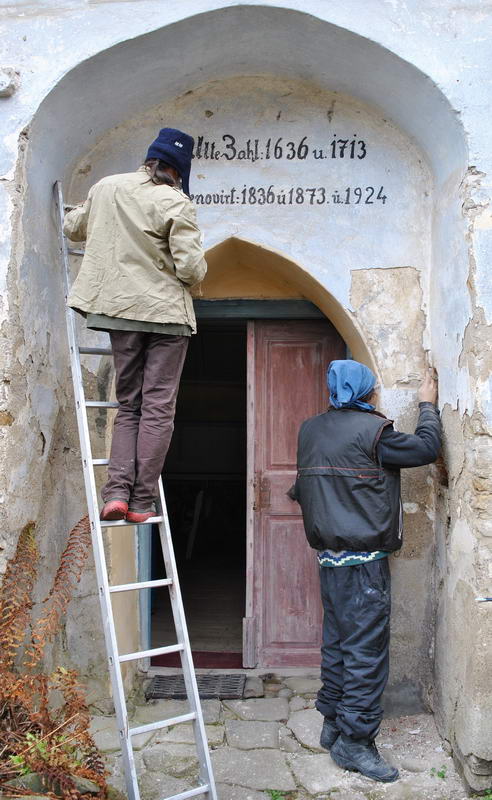 Transylvania is home to more than 160 fortified churches and further 100 churches with mainly medieval origin. Currently more than half of them are threatened to deteriorate to different degrees. This is due to the fact that the Lutheran congregation as the community of heirs and responsible for the monument preservation is either too scarce or no longer existent.
For this reason the Fortified Churches Foundation was established. All of the maintenance and reparation works carried out by us follow along the strict guidelines of classic preservation and traditional craftsmanship. Our respect goes to the architectural accomplishments, the quality of the craftsmanship, and the artistic creation of the Transylvanian Saxons. This respect accompanies us at all times. We wish to preserve, protect, and care for the structure in its authenticity and its historically evolved state including the historic traces and changes.
Our main objective is to save threatened fortifications and churches. This also includes inventory and artistic furnishings as well as other buildings such as parish houses, schools, or community centers also belonging to the church ensemble.
The planning and conservation measures we carry out are always focused on each individual object and its necessities and in coordination with the responsible district consistories and representatives of the congregation. Together we discuss possible and necessary approaches and decide which measures are appropriate and reasonable. Our activities go from urgent security measures of the monument to maintenance and reparation works as well as conservation. The basis for everything we do is a thorough documentation in form of an evaluation, photographs, drawings, and further research.
More detailed information to the international standards of monument preservation can be obtained here:  http://www.charta-von-venedig.de/venice-charter-1964.html
Who do we work with?
We are available to all decision-makers and everyone interested in questions concerning monument preservation. We support congregations, district consistories, hometown associations as well as independent initiatives when it comes to the conservation of church buildings. We do this by consulting, documenting, fundraising as well as accompanying the building and conservation measures that are carried out.
How do we work?
Our prior objective is to assure that all measures taken in order to save, secure, or preserve the buildings are carried out professionally and in best quality. Therefore we monitor the work from beginning to end and are always available for any kind of consultation.
Typical services we offer are:
on-site inspection, photographic and on-record evaluation

preparation of a short expert report and if necessary further assessments

development of a conservation and maintenance report with cost calculation

assistance with appeals for donations and support in acquiring donations for necessary measures,

development of an action plan respectively execution plan

organization of permission from the responsible authorities

finding qualified and suited firms, craftsmen and specialists

monitoring and controlling the implementation of the work

documentation of the work carried out

reporting to the donors, supporters and further partners
Should you be interested in supporting a church or fortification – either financially or in any other way – please do not hesitate to contact us.
Current projects
Our main focus is currently on projects in these fortified churches:
Felmern / Felmer
Previous projects
Our predecessor "Coordination Office for Fortified Churches" has carried out more than 30 maintenance projects on fortified churches – most of them within the scope of our "roof program".