Project Daia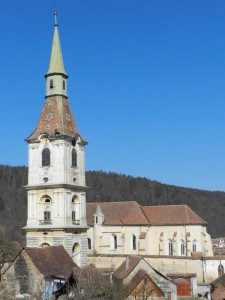 Second highest free-standing clock tower in Transylvania and fortified church to be rescued from acute decay!
Description: Thanks to smaller urgent repairs carried out by the association Asociatia Sapte Brazi in the past few years the deterioration could temporarily be stopped. Yet a thorough renovation is still necessary. The roofing and building security are especially important.
The first restoration phase has been completed successfully! (short description)
Measures for the next phase: drainage of rain water, security of walls in danger of collapsing, works in open spaces, summer school 2018
Current donations:

(23.04.2019): 200 EUR
Necessary amount: 3.000 EUR
| | |
| --- | --- |
| Total amount donated | 3.200 EUR |
| Expenditures 2017 | 1.900 EUR |
| Expenditures 2018 | 1.100 EUR |
Activities
The fortified church of Daia and its bell tower were threatened to deteriorate until the Saxon Uwe Hann arrived in 2013 and decided to become active. He founded the Romanian association Asociatia Sapte Brazi which together with the older German Association "Bona Fide International e.V." contractually took over the historic buildings from the Distric Consistory. They have the objective of protection this unique architectural ensemble, to make it accessible again and to use it for cultural purposes.
Until now a few repairs on the roof and the floor of the bell tower were made and the restoration of the tower clock was financed.
The Fortified Churches Foundation would like to support this initiative: we are consulting in questions of monument preservation, helping to bring interested people to the remote village and are always informing about the current situation. A short expertise has been made and we are positive about moving forward with the project in Daia.
Fortunately we were able to include the fortified church of Daia in a 2-year restoration project funded by the U.S. Ambassadors Fund for Cultural Preservation (AFCP), supporting the preservation of cultural sites and historic monuments. The implementation of the project begins in 2017 and updates to the progress of the work will be posted here on our website.
---
Our Partners

Association "Sapte Brazi und Bona Fide International e.V."