Project Hosman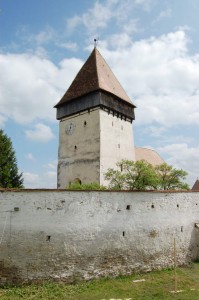 Help us restore and revive the medieval fortified church of Hosman!
Description: The fortified church has plaster damage on almost all walls, caused by the lack of above-ground drainage of rainwater, rising soil moisture and defective gutters. Previous repairs with cement-based plaster have reinforced this effect. There is minor damage to the roofs.
Measures: Drainage of rainwater, repair of roofs and gutters, open space work, preventive measures, preparation of an expert opinion on the architectural surfaces
Current donations:

925 EUR (05.12.2019)
Necessary amount: 3.500 EUR
| | |
| --- | --- |
| Total amount donated | 3.616 EUR |
| Expenditures 2019 | 2.691 EUR |
The first goal has been reached!
Work on the fortified church began in 2019!

Activities
The fortified church of Hosman underwent a thorough renovation in the end of the 90's. Since then about 20 years have passed and the important maintenance and care of the building went through different phases.
In the beginning of the 2000's family Cotaru (Hosman Durabil) took great care of the fortification. They not only made sure it was accessible but also actively repaired things when necessary, for example they restored the tower clock.
As of 2010 different measures were taken by the Association "Jugendburg Holzmengen", the District Consistory of Sibiu and other initiatives. The Association Jugendburg Holzmengen has been caring for the parish house for many years.
The HOG Holzmengen (hometown community of emigrated Saxons) has recognized the seriousness of the situation and supports the planned measures with a generous donation.
In order to support the parish and both of the active associations on site we have included Hosman into our roof program for monument preservation.
Our Partners
Association "Jugendburg Holzmengen" www.holzmengen.ro
Hometown Community Hosman
Association Hosman Durabil www.hosman-durabil.org/