Project Pelișor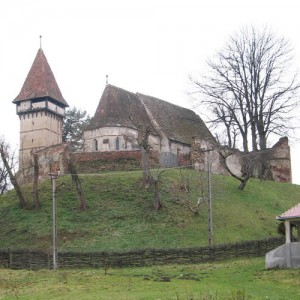 The valuable fortified church of Pelișor must be preserved!
Description: The fortified church is in a critical condition due to many damages to almost all parts of the building. One of the reasons for this is that it has not been possible to maintain the building to the necessary extent in recent years. The Fortified Churches Foundation has been committed to the preservation of the monument since 2016 and is supported locally by the association Asociatia P.A.T.R.U..

The first stage was successfully completed!
(short report)
Actions planned for the second stage (2019-20):
1. preparation of the approval plan for the reconstruction of the wooden staircase in the gate tower and for repairs to the church roof.
2. implementation of the work in 2019 and 2020, partly within the scope of the workshop HANDS ON CONSERVATION II.
Current amount

(16.06.2020):  555 EUR
Necessary amount: 2.800 EUR
| | |
| --- | --- |
| Total amount donated | 6.071 EUR |
| Expenditures 2016 | 0 EUR |
| Expenditures 2017 | 3.812 EUR |
| Expenditures 2018 | 0 EUR |
| Expenditures 2019 | 1.704 EUR |
Activities
Since there are no Protestant parishioners left in Pelișor, the maintenance of the fortified church has posed an increasing challenge in recent years. Since 2018, the association P.A.T.R.U. has been working for the preservation of the castle and the neighboring parsonage. The Fortified Churches Foundation supports his work.
The following has been achieved in recent years:
2018 – The association "Asociatia P.A.T.R.U." starts its activities on site
2017 – Fortified Churches Foundation in cooperation with the Patrimonium Saxonicum Foundation: Removal of trees and other vegetation from the castle grounds (short report)
2016 – Fortified Churches Foundation: Implementation of first safety measures
Our Partners
Patrimonium Saxonicum Foundation
Association "Asociatia P.A.T.R.U."