Project Șoarș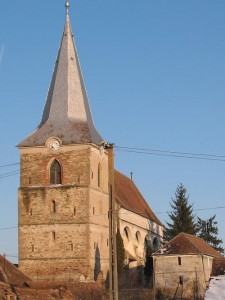 Medieval fortified church with valuable stone masonry work is to be preserved!
Description: The fortified church of Șoarș, which was originally one of the largest fortified churches, is to be saved and repaired together with its two outbuildings (fruit house, parish keeper's house).
Measures: Emergency repair of the tower wall, complete construction planning, further expertise, restoration of the 14 pillars
First goal achieved!
The first stage was successfully completed! (short report)

 Current donations: (18.12.2020): 39.139,24 EUR Goal achieved!
Necessary amount: 38.000 EUR
| | |
| --- | --- |
| Total amount donated | 45.935 EUR |
| Expenditures 2016 | ca. 500 EUR |
| Expenditures 2017 | ca. 18.000 EUR |
| Expenditures 2018 | 0 EUR |
| Expenditures 2019 | ca. 4.000 EUR |
Activities
For years the HOG Șoarș (hometown community of Saxons) has been trying to stop the continuous decay of the church and its outbuildings. With good will and the best hope for success, even small interim goals could be achieved. Nevertheless, a professional and long-term conservation concept is still needed.

On request and on the initiative of Ursula Hummes, the Fortified Churches Foundation prepared a short report in December 2015.
Donate for the preservation of the fortified church of Șoarș here and indicate the intende use "Șoarș"!
Our Partners
HOG Șoarș, Ursula Hummes guuhumme@t-online.de
Association of Lutheran Parishes Făgăraș (German language only)