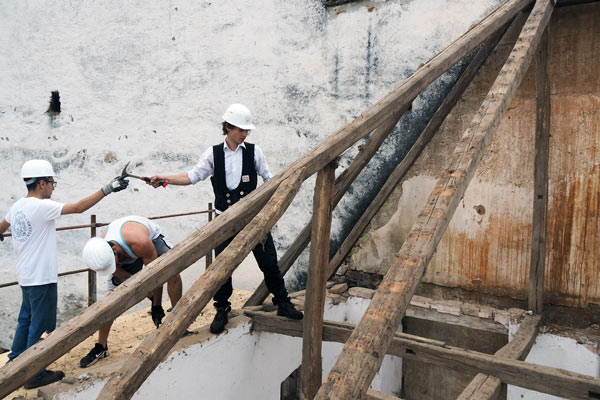 Our main task is to save endangered fortified churches and churches. This also includes the inventory, the décor and furnishings and the annex buildings belonging to the ensembles, such as parish houses, schools and cultural buildings.
We always base the planning of repairs on the individual circumstances of the respective objects and coordinate them with the stakeholders involved on site. Together we discuss possible and necessary courses of action and weigh up which measures make sense. Our activities range from emergency securing of monuments and maintenance and repair work to comprehensive repairs. All work is preceded by documentation in the form of inventory descriptions, photographs, drawings and further research.
In all our activities, we are guided by the international standards of monument preservation.
General approach
Who do we work with?
We are happy to answer any questions concerning the preservation of historic buildings and respond to all decision-makers and interested parties in this regard. We support church congregations and districts, local communities and independent initiatives in their work to preserve the religious heritage. We do this by providing advice, documentation, fundraising and support for building and conservation measures.
How do we proceed?
Our most important goal is to ensure that measures to save, secure and conserve are implemented professionally and to a high standard of quality. Therefore, we prefer to accompany all the work we organize from start to finish and are always available to our partners for consultation.
Services from our side (selection):
Inspection of the object, photographic and protocol inventory,
Preparation of a brief reports and, if necessary, further expert reports,
Preparation of a conservation and maintenance concept with cost estimate,
Development of appeals for donations and support in raising funds for planned measures,
Preparation of an action plan or construction schedule,
Obtaining the consent of the responsible authorities,
Search for qualified and suitable contractors, craftsmen and specialists,
Accompanying and monitoring the implementation of the planned measures,
Documentation of the work carried out,
Reporting to donors, sponsors and other relevant partners.
If you would like to support a church or fortified church – whether financially or in any other way – please feel free to contact us at any time at office@kirchenburgen.org. 
Roof Programme