In addition to information material for visitors and interested parties, the Fortified Churches Foundation also offers small souvenirs that are fun and enjoyable.
Our publications and products can be obtained from the Foundation office and at various fairs and cultural events, or you can send us an e-mail to office@kirchenburgen.org and we will be happy to send them to you for a donation.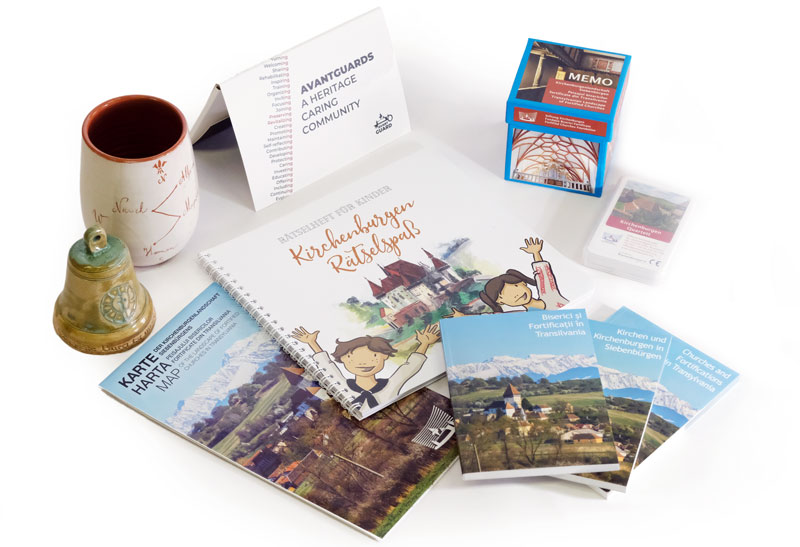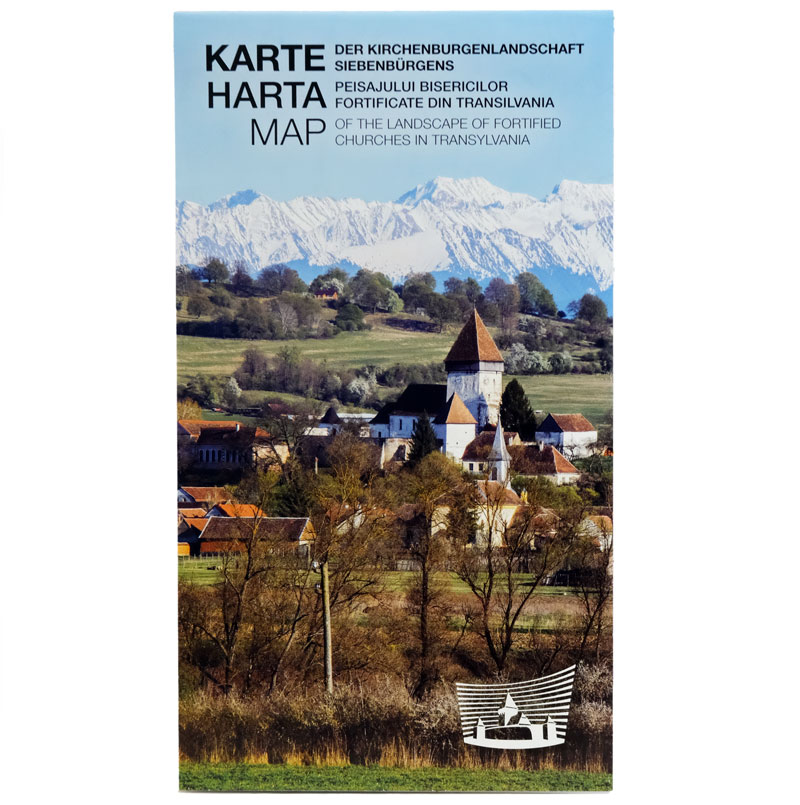 For planning your trips and to get a good overview of the sights that can be visited along the way, we recommend our Fortified Churches Map.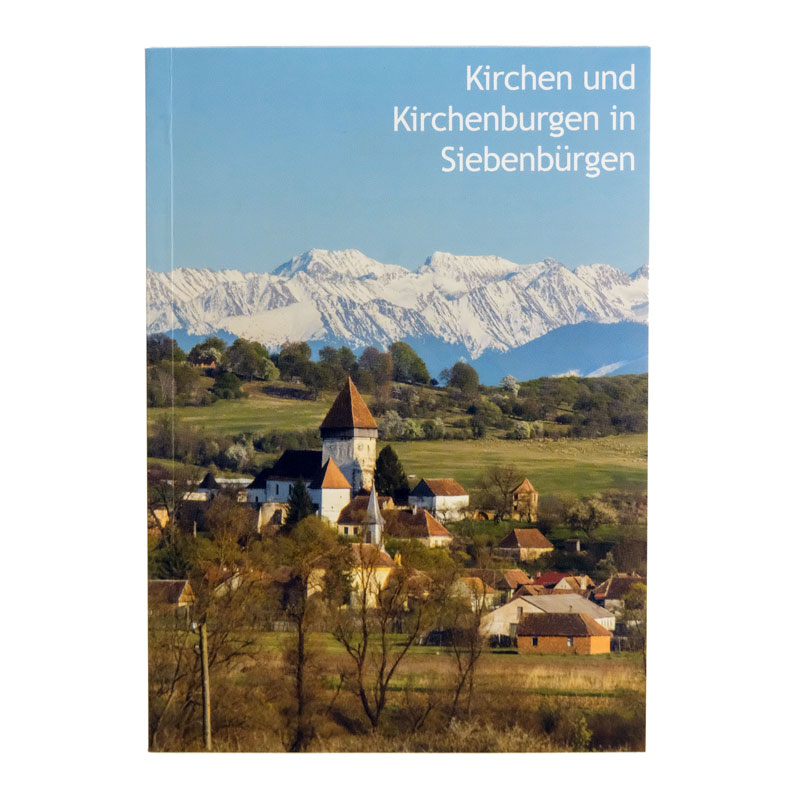 The current and expanded edition of the pocket-booklet (2020) offers brief descriptions and contact information of the castle keepers about 154 churches and fortified churches. Your pocket-sized travel companion.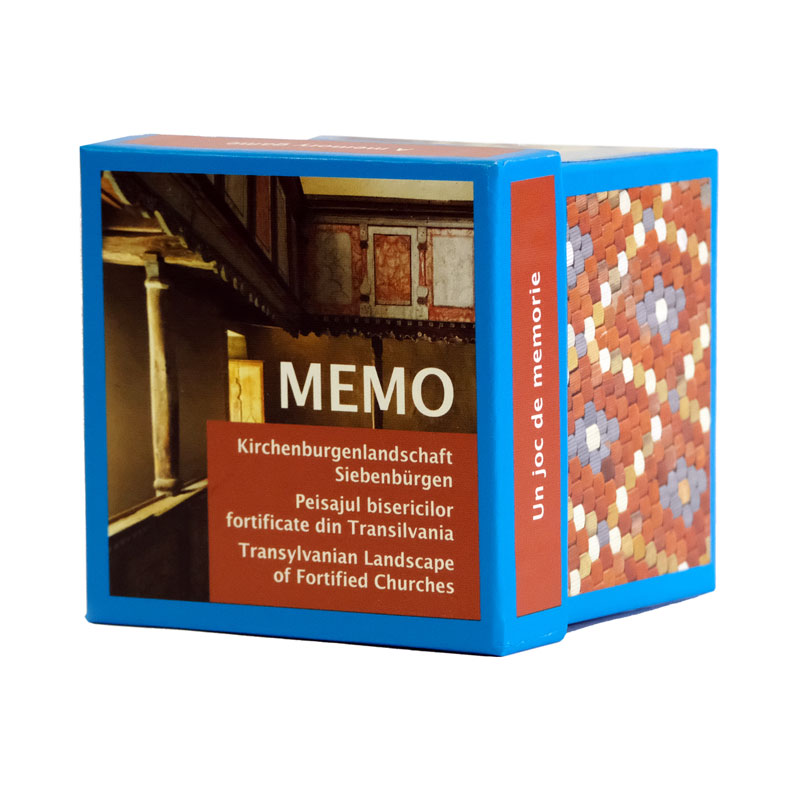 With the fortified churches memo game, we would like to convey some special features of the fortified churches in a playful way. You can find the motifs of the cards and further information at www.memo.kirchenburgen.org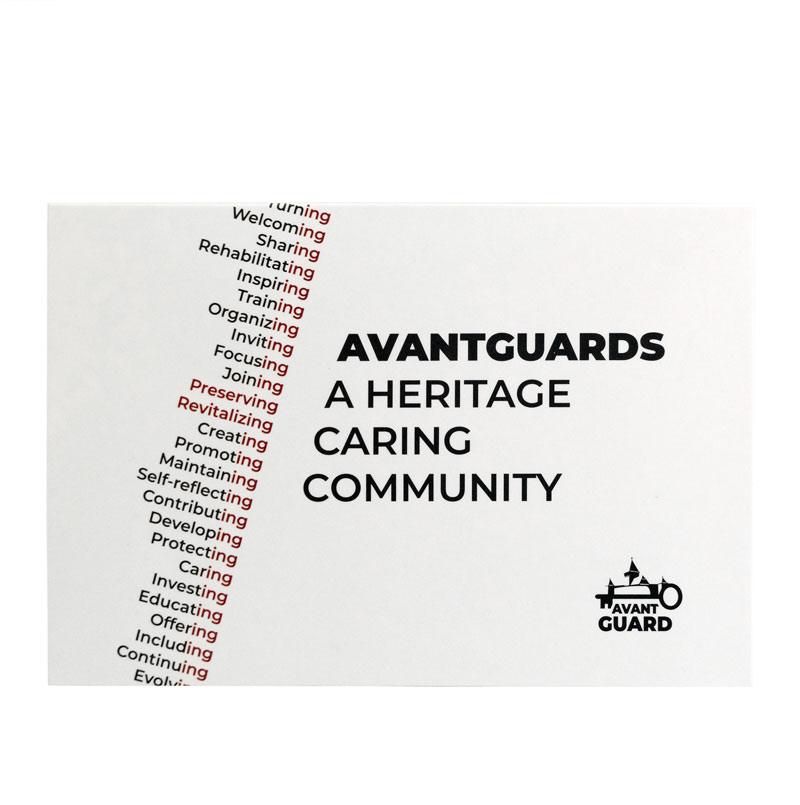 With this collection of postcards, we would like to introduce the AvantGuards – the next-generation castle keepers. These are associations or initiatives that have dedicated themselves by contract to the preservation and revitalization of a fortified church.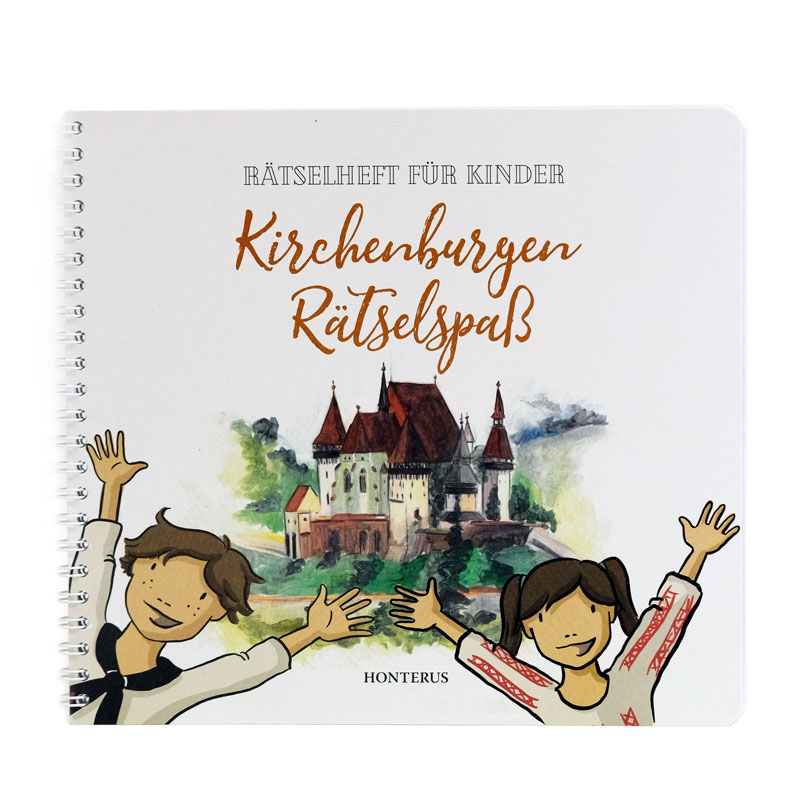 Villages of the lower Harbach valley are listed on these beautiful cups, which were handmade by the Scout Center in Nocrich. The cups are 11cm high and have a diameter of 8 cm. Individually hand-crafted, we warmly recommend them as gifts and for personal use.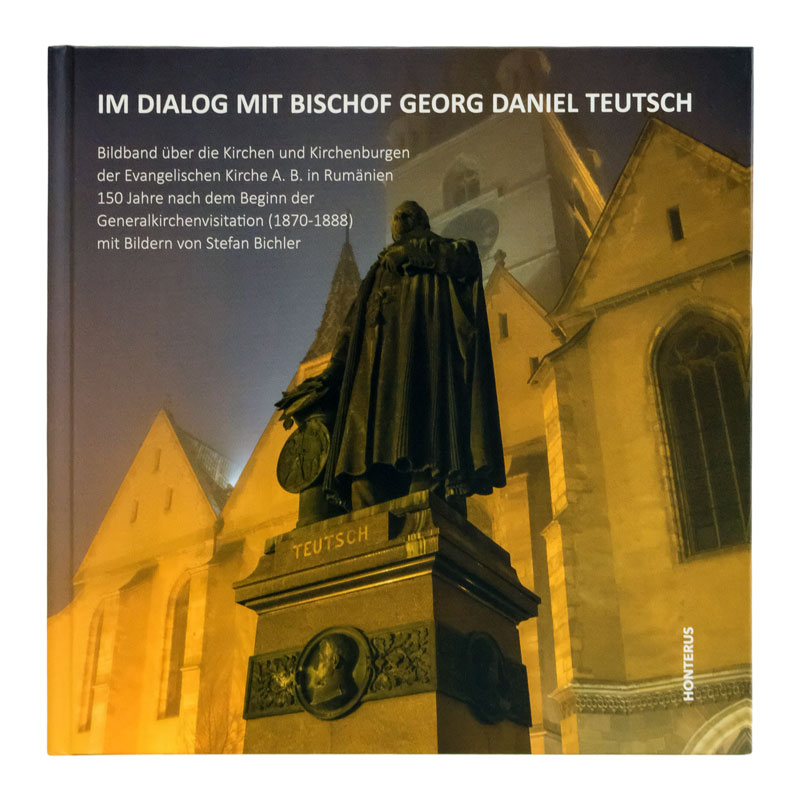 Der von Stefan Bichler konzipierte Bildband stellt Bauwerkbezogene Zitate des wichtigen Bischofs und heutigen Stimmen aus dem Bereich des Kulturguterhalts und der Denkmalpflege gegenüber.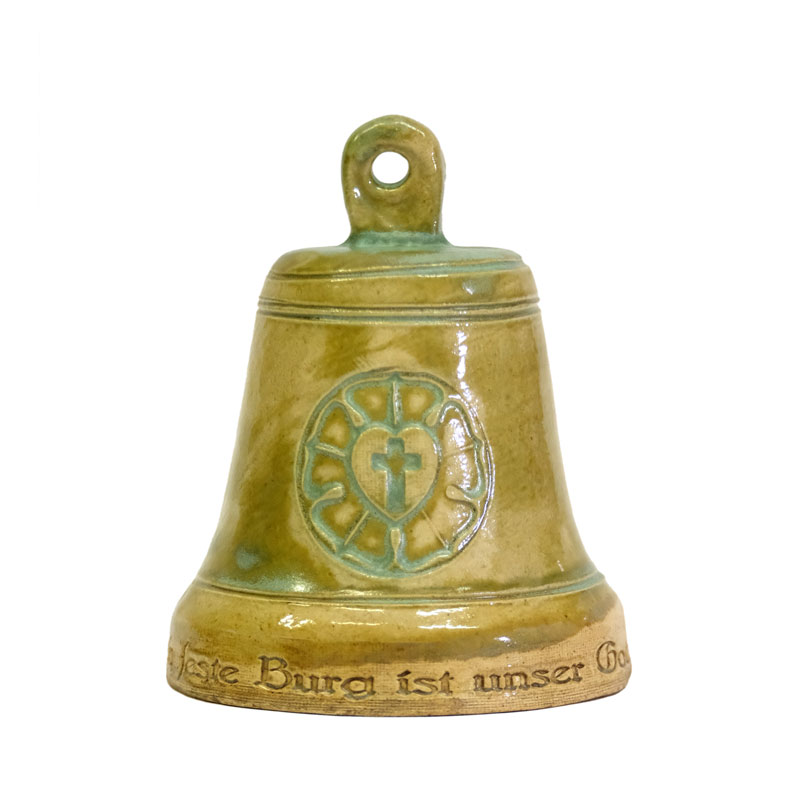 Anlässlich des Lutherjahrs 2017 und des damals in Hermannstadt groß gefeierten Sachsentreffens, haben wir diese wunderbar klingenden Glöckchen handanfertigen lassen. Noch gibt es ein paar Exemplare in unserem Stiftungsbüro.
50 Lei / 10 Euro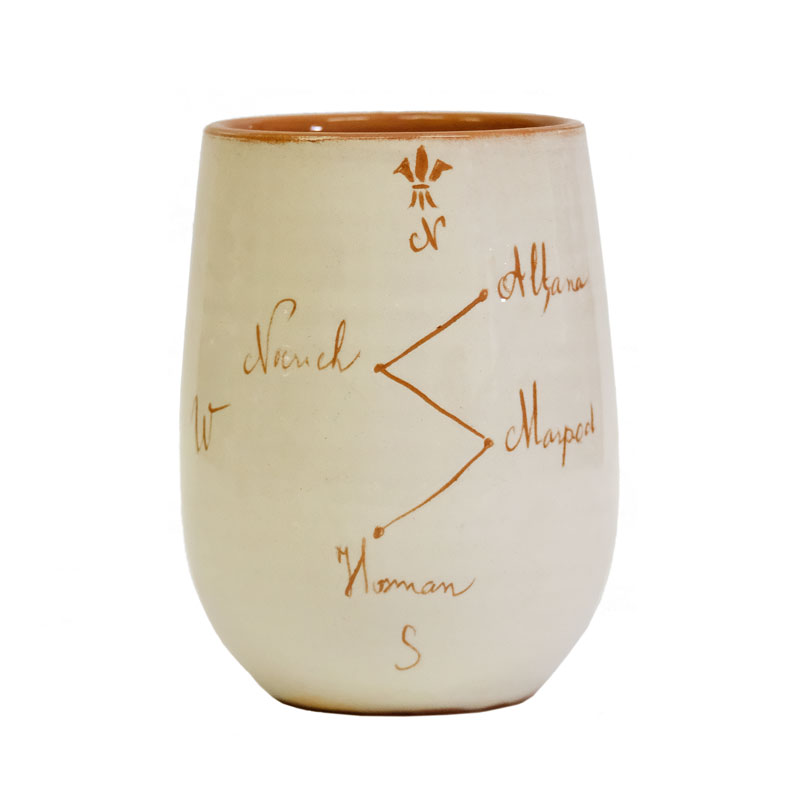 Auf diesen schönen Tassen, die von den Pfadfindern in Leschkirch handgefertigt wurde, sind Dörfer des unteren Harbachtals aufgeführt. Die Tassen sind 11cm hoch und haben einen Durchmesser von 8cm. Mit ihrem individuellen Charakter können wir sie als Geschenk und zum Eigengebrauch nur wärmstens empfehlen.
50 Lei / 10 Euro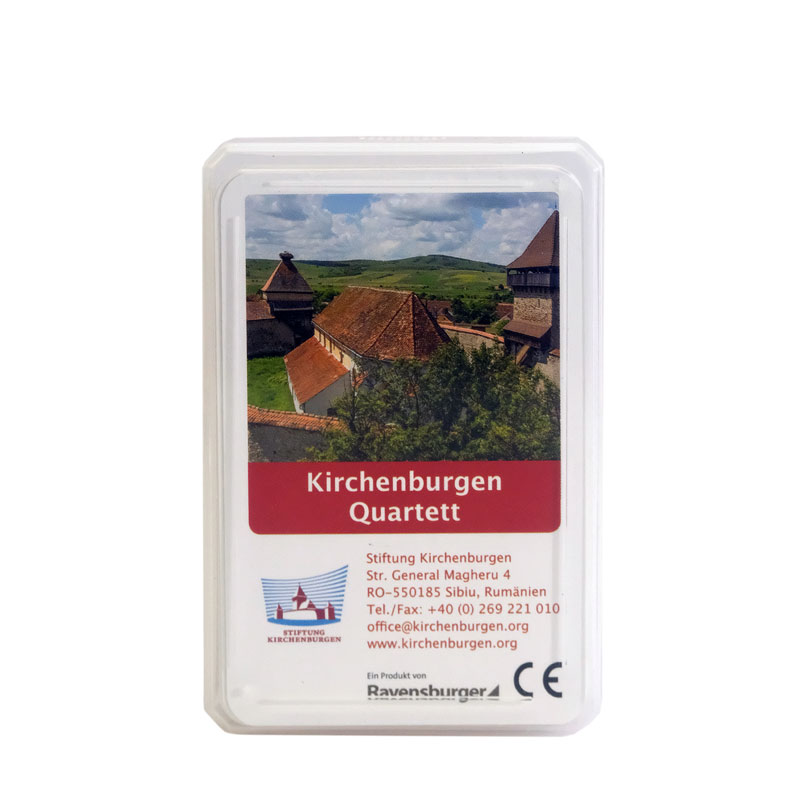 Das Kirchenburgen-Quartett macht richtig viel Spaß! Anhand wichtiger Zahlen der jeweiligen Objekte kann man sich durch acht verschiedene Unterregionen bewegen und durch Trumpfen möglichst viele Karten gewinnen.
25 Lei / 5 Euro