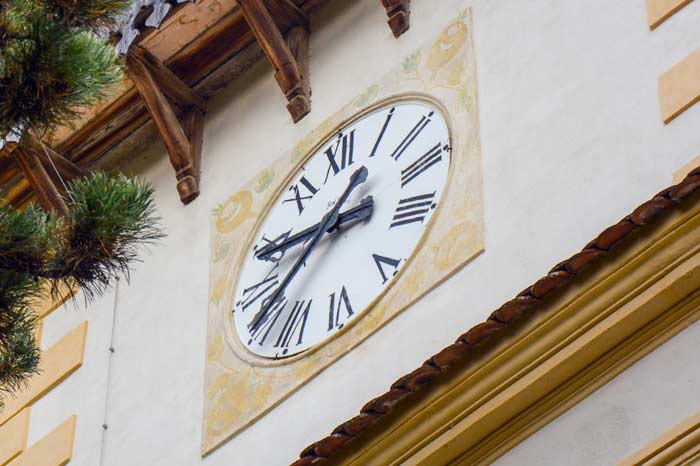 The Tower Clock Programme was developed by the Fortified Churches Foundation to preserve historic clocks. Wherever possible, they should first be repaired and made operable and then kept in operation for as many years as possible. To achieve this, the programme goes through the following steps:
A clock in question is first examined by an expert. An appraisal is made to assess the historical value and the prospects for preservation. As far as possible, a cost estimate for repair is also prepared. The expert's report is financed by the Fortified Churches Foundation.
On the basis of the expert report, all those involved – for example the church district, the Saxon Hometown Community, or the municipality – can decide whether a repair can be financed and, if necessary, collect the money required for it.
If the financing is secured, then the Fortified Churches Foundation organises the repair of the clock by a specialist company. However, a mandatory prerequisite for this is that there is a caretaker on site who will take over the maintenance of the clock and its regular winding after the repair. This is to ensure the sustainability of the measure. The watch supervisor is trained for his future tasks during the repair.
After the repair is completed, a maintenance contract is also concluded with a specialist company, during which regular control visits are arranged. The rhythm of these visits depends on local needs and the skills of the clock supervisor. Half of the costs of the maintenance contract will be covered by the Fortified Churches Foundation in the first year.
The tower clock programme is to be further expanded in the coming years. The more sites are involved, the more efficient the maintenance and supervision will be. We would like to invite interested church representatives to contact us and work together.
If you would like to support the clock programme with a donation, please click here.