Agnita / Agnetheln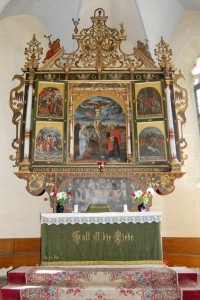 The 13th century basilica, initially built without towers, was rebuilt and fortified two centuries later when the chancel was completed with a defence level on arches with loopholes. This level was to be removed in the 19th century. By heightening the aisles, the building became a hall church. The western potter's tower is equipped with a parapet walk built in the timber frame technique. The ring wall was demolished, but the defence towers are preserved: the potter's tower, the gate tower also called the cooper's tower, the tailor's tower, the smith's tower and the cobbler's tower. The techniques and details are impressive not only on the construction itself, but inside as well. The chancel boasts a well-preserved double winged altar from 1650, an artwork that echoes the pre-reformation Gothic winged altars.
Place and surroundings
It is said that Saint Agnes has founded the town, many remarkable sites witnessing her protective power throughout centuries. The town preserved to this day one of the oldest and most important customs of the Transylvanian Saxons, the Parade of the Lolas. In order to chase the wintertime and the evil spirits away, the celebration is held annually in January or February. Scary dressed Lolas march through town in manacles noise with whips and tires and do all sorts of hoaxes. Besides the ragged black outfit, the main adornment of each Lola is the "larva", a dreadful mask applied on wire mesh. Moreover Agnita was in the last century the main train station on the route of the so-called "Mocăniţa", which linked the town of Sibiu with Sighişoara. The last part was closed in 2001 and many efforts are done since to establish seasonal tourist traffic with the historic carriages.
Tourism
In the last century Agnita was known as an important railway station along the tracks of the so-called "Mocănița" which connected the cities of Sibiu and Sighişoara. Sadly, the last part of the tracks was shut down in 2001. In the meantime a group of active volunteers have come together as an NGO to restore the train-tracks and to revitalise them with historic railway engines during the tourist season. Many fun and interesting events take place around the Mocănița on a regular basis, especially during the summer months. They are not only targeted at enthusiasts of trains and steam engines but offer a unique and great experience for children and families.
For more information and details:
www.sibiuagnitarailway.com
www.phototour.mocanita.ro
www.mocanita.ro/mh/
Activities
Roof Maintenance Program
Responsible: The Coordination Office for Fortified Churches
Costs: 2.200 Euro
Time frame: autumn 2007
Description: Works focused mainly on the main roof of the church, complete removal of the existing plaster work on the southern pedestals, up to a height of 1,50 m. Completing the roof of the pulpit with tiles.