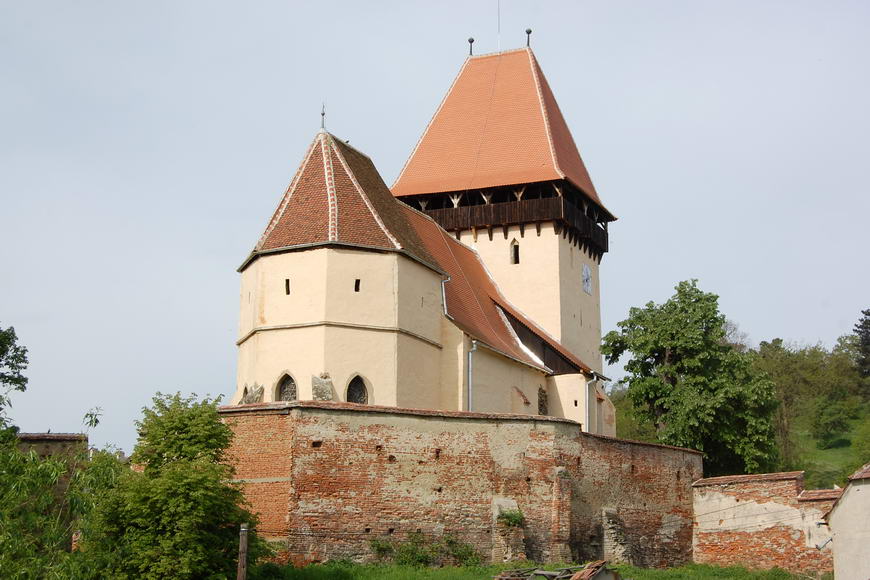 The fortified church in Ighişu Nou was built in the 14th/15th century as a hall tower-less Gothic church with narrow chancel. The chancel was heightened in the late 15th century with an additional defence level. A tower was constructed in the front hall, with the staircase built in the thickness of its walls. The small octagonal stair tower on the northern side has been built only later. Similar to many churches in the Mediaş area, this one also preserves some very valuable stone masonry: blooming roses on the impost of the tracery on the chancel windows and a very rich ornamentation on the profiled western portal. The massive western tower still maintains its original hip roof and the wooden defence level.
The church is surrounded by a complete defence wall with the remains of a fortified granary on the north side, as well as a horseshoe-shaped bastion on the southern side, which closes the narrow outer bailey.
Place and surroundings

Ighişu Nou is situated in a side valley of the river Târnava Mare. A watershed forms the natural border to the valley of Moşna. At one location the parish boundary is strangely interrupted though. It is said that once the horse of an imperial rider fell here from a poorly maintained bridge and broke his leg. The people from Moşna were eager to avoid responsibility and pretended the bridge was on Ighişu Nou's land. Since then the valley belongs to the people of Ighişu Nou.
For centuries the inhabitants made a living from vineyards, agriculture, bull breeding and fruit orchards. The village was affluent and could afford to decorate the church with plenty of architectural sculptures and ornaments and to surround it with a strong wall.
Only after World War II the farmers became commuters and factory workers in the neighboring town of Mediaş. The many farms in Ighişu Nou tell of the times when agriculture was still the main source of income and when one rarely left the village by way of the winding valley paths.
Activities
EU-Project "18 Fortified Churches"
Responsible: General Consistory of the Evanghelical Church A. C. in Romania
Costs: 190,000 EUR
Time frame: 2010-2014