Bălcaciu / Bulkesch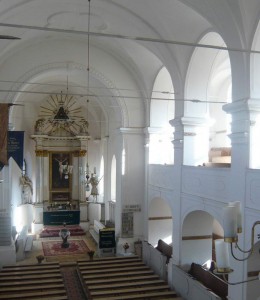 The irregular polygonal shaped chancel of the church in Bălcaciu was erected in the 14th century and heightened with three defense levels in the 16th century. Its upper level shows one of the rare wooden defence platforms that are still preserved. On the northern side a two level sacristy was built in the same period. The old church and the interior curtain wall were demolished and the materials were used to build the current three-aisle hall church with profiled pairs of buttresses and barrel vault. In 1856 the spire tower was built. Four defensive towers and a gate tower that are still visible today strengthen the exterior circular ring wall.
The neoclassical interior of the church is decorated in white and gold with few stucco works. The organ built in 1820 by Samuel Maetz and the richly decorated canopy of the pulpit are both painted in the same colors.
Place and surroundings
It is said about the village located between the rivers Târnava Mică and Târnava Mare that it was a witness of the legendary competition between the two rivers. Up in the Gurghiu mountains, each water stream made a bet to be the first to reach the town of Blaj. The Târnava Mare, being cautious and wise, only flowed during the day, in order to notice the obstacles in its way on time and thus be able to avoid them. Its younger sister, being full of enthusiasm, rushed to the valley without taking into account the darkness that was around. Thus, the Târnava Mică lost the bet, being forced to make long detours and turns and even flow backwards in order to be able to avoid the obstacles on its way. But we owe to this bet the "Mesopotamian" territory where Bălcaciu is located, surrounded by legends that tell of secret tunnels and damned treasures. Pieces of ancient pitchers were found buried in the ground and they are said to have been filled with priceless treasures that the devil would have changed to ashes.
The mythical gold will never be found on this land, but its location and its eternal natural treasures await to be discovered over and over again.