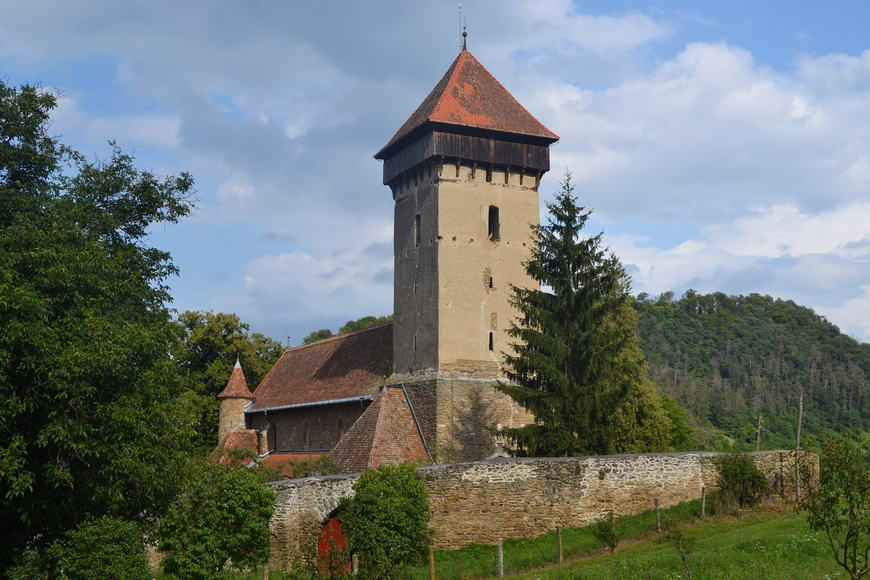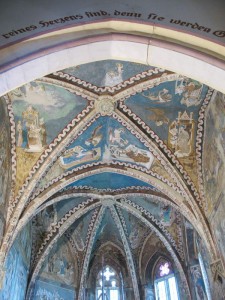 The Romanesque basilica built in the 14th century with three nave, polygonal chancel and west tower served as Maria's sanctuary until the Reformation. From the fortification system built in the 15th/16th centuries only the defence level on the tower and the ruins of the fortification wall are still preserved. The defence levels above the nave and chancel were destroyed in a fire and dismantled in the 19th century. Today the church shows untypical non-plastered stone wall, as result of the restoration of 1913 that followed the tradition of the 19th century. In addition to the significant frescoes, the church shows many excellent carvings, as the tracery of the windows, the western portal and other sculptural details.
The interior of the church shelters one of the oldest Gothic winged altar, having the Mother of God as the central motif, and a late Gothic pew with carvings, coming from the workshop of Johann Reychmut.

Place and surroundings
Not only the fortified church of Mălâncrav is unique, but the village also has an unusual history for Transylvania. But first things first: The church is home to the largest continuous wall paintings in Transylvania. They originate in the 14th Century and – unlike most other wall paintings from that era – were not destroyed during the Reformation, but have survived to this day. The stunning images represent a so-called "Bible of the Poor" and show the holy story.
Unlike most other Saxon villages, Mălâncrav did not belong to the so-called free royal land, but the residents were serfs of the Hungarian noble families Apafi and Bethlen. Only in the 19th Century the serfdom was abolished.Today one can enjoy the rural idyll between Saxon farms and wooded hills in Mălâncrav. Prince Charles visits this place regularly to find tranquillity.