Axente Sever / Frauendorf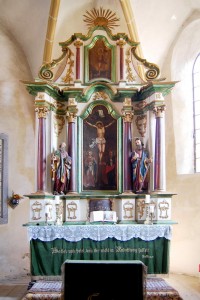 The Evangelic church in Axente Sever is an important witness of the hard times the region had to bare. Therefore not only the ring wall was strengthened for defensive purposes, but the church building itself was also fortified. The massive tower between hall and chancel, dating back to the 14th century has a parapet walk on the highest level and on the first and second floors simple, elongated loopholes that end as a niche towards the interior. Both the chancel and the nave were heightened with defence levels with loopholes. The arches built between the reinforced buttresses on the western facade support the defence level. A portcullis, whose guiding slides are still visible today, protected the western portal. Along the outer wall there are partially preserved and reconstructed storage rooms which are used as guest rooms today.
Place and surroundings
The fortified church of Axente Sever was not only the religious center of the settlement over the centuries, but also a secure place to deposit valuable goods. In the numerous storage buildings in the precincts of the castle wall, rooms were assigned to each family from the village for storing grain, meat and other food. Corn was not stored on farms, but brought directly to the fortification after harvest to protect it from possible attackers. A special procedure was the storage of the bacon in the so-called bacon towers, which were opened to families only on Sundays after church service. To ensure that no one was serving from a different piece of bacon, each family scratched an individual sign on the freshly cut edges. The storage rooms have been transformed into guestrooms in recent years so that today visitors can sleep inside the mighty walls. In addition, a museum was set up to report on the history of the village and the fortified church.