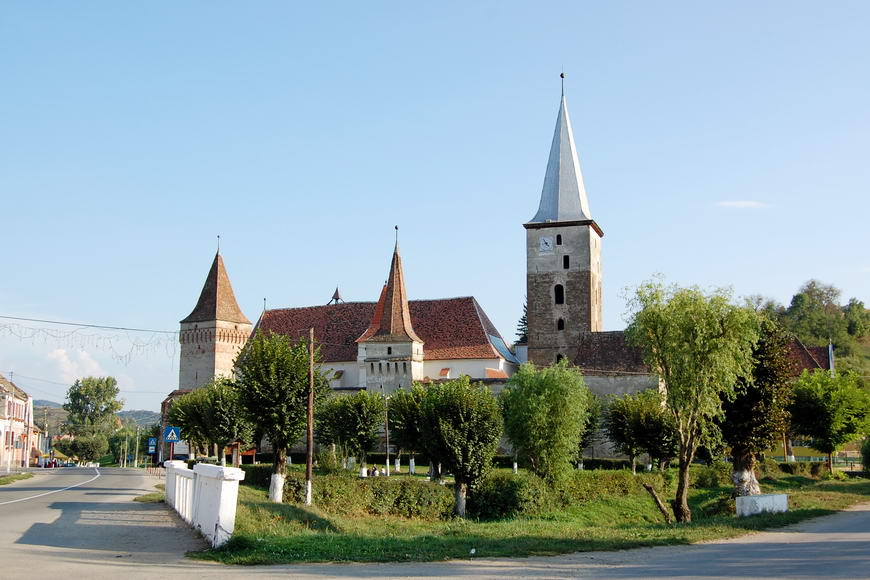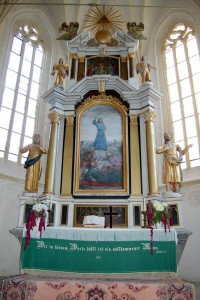 From the first church built in the 14th century the western portal is preserved, as well as stones used to build the eastern pairs of pillars in the hall church from 15th century. The construction of the new church, whose size and architecture are testimony of the importance of the settlement, was accompanied by extensive measures to fortify the assembly: a defence level was added to the chancel, the northern and southern entrances were strengthened by towers provided with loop holes. A parapet walk on arches was built on the curtain wall, as well as several defence towers and an outer bailey, which is divided in two parts and protected by a small watchtower.
The interior of the church impresses due to its dimensions and excellent sculptures, as well as the Gothic lierne vault on pairs of stone pillars.
Place and surroundings
The fortified church in Moşna is counted as one of the biggest monuments of its kind in Târnava region and at the same time as one of the most beautiful in Transylvania. It impresses mostly due to its imposing appearance and the richness of its interior details. Once setting foot in the building, one leaves the profane existence behind and enters a sacred world, a world richly decorated with art, history and spirituality. The architectural details are unique and particularly valuable. The sacristy portal is decorated with a keel arch and a cloven finial. Above them lies the canopied statue of Christ and the archangel Gabriel is enthroned on the pulpit ceiling. With a height of approximately 10m and ornamented with carefully crafted late Gothic stone sculptures, the tabernacle also represents an exceptional attraction.
Next to sheltering these cultural treasures, Moşna was also the home of Stephan Ludwig Roth (1796-1849), famous Saxon priest, pedagogue and human rights campaigner.