Sânpetru / Petersberg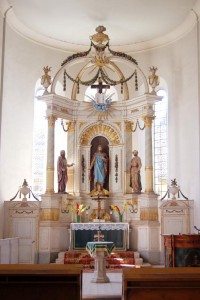 The church in Sânpetru was built in 1794, replacing a medieval basilica from the 14th century, which was demolished after its tower had collapsed twice. The new church was unusually provided with a western chancel and a tower was built in 1817. The interior was endowed in neoclassical style, from organ and scarcely decorated pillars to the column- altar in the chancel. Only ruins are still preserved from the exterior and second curtain wall. But the first fortification wall stands complete even today, preserving its five towers and the two level rooms built on its interior.
On the southern side of the assembly the old school and the old town hall were erected. The 13th century pre-reformation chapel was fortified in the 15th century by addition of two levels. Valuable mural paintings from 1400 decorate the chapel's walls.
Place and surroundings
Sânpetru was founded in the 13th Century in the so-called Țara Bârsei, in a valley of the Carpathian arc. For centuries the village was on the edge of both Hungarian and Austrian sphere of influence and it was therefore exposed to attacks much more than other settlements in Transylvania. The imposing fortified church in the middle of the village repelled many invasions.
Yet, even this fortress could not stop the most dreaded enemy: the Black Dead. Legends tell of a mysterious stranger, an old woman dressed in black who was seen in Sânpetru every time before the outbreak of the plague. Beyond all legends, the strict measures that were taken to prevent the disease were historically certified. According to the monograph of the village, the inhabitants were prohibited from working their land on the same days as the people from the neighboring villages. Foreigners were denied access and breaking this rule could even have fatal outcomes for them. Even the coins were boiled, disinfected and pierced. The last great plague, which killed nearly 400 villagers stroke in 1718-1719.