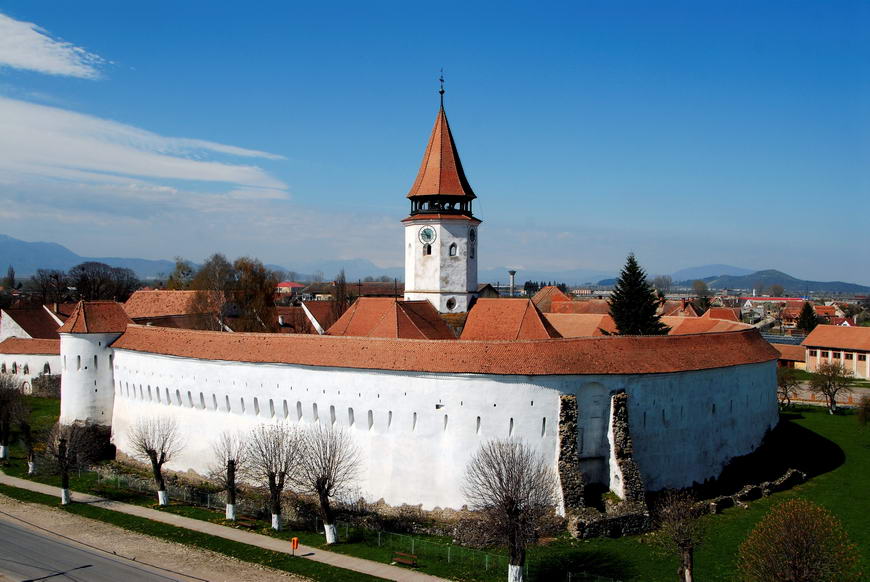 Due to its strategic location, the fortified church of Prejmer was particularly strengthened. The building of the church has been started by the Teutonic Knights in 1218 and continued by the Cistercians after their expulsion. The floor plan in the shape of Greek cross was modified between 1512-1515 by adding two unequal side aisles and by extending the main nave. Above the crossing a high bell tower was erected in 1461.
The church itself was never fortified, but protected by a surrounding 14 m high wall, strengthened by five towers, a kennel and a moat. A special feature, preserved until today as a whole is the four-story residential rooms and pantries, and behind them the parapet walk.
The simple interior of the church preserves no frescoes and the 19th Century painting was removed during late restoration. The highlight is the Gothic winged altar with the Crucifixion scene in the midfield.
Place and surroundings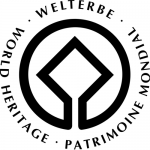 The fortified church of Prejmer was for centuries of particular strategic importance due to its position at the exit of the Buzău Pass, over which main invasions to Transylvania had to pass. The village was attacked and destroyed over 50 times between the 13th and 17th Century. The fortified church however was only taken a few times.
A 30-meter long entrance tunnel with portcullis and solid oak doors protects the entrance to the precincts. Into the massive fortification wall are built more than 270 dwelling units and storage rooms. In case of an attack they offered shelter for up to 1,600 villagers. Some chambers have been converted into a museum now. Connecting the chambers and along the outer wall ran several staircases and corridors, accessible today for visitors. They are also leading to the machicolation and crenels on the outside of the fortification wall. The climbing in the dark and twisty battlements is a special experience and gives a strong impression of the defence situation in case of siege.