Codlea / Zeiden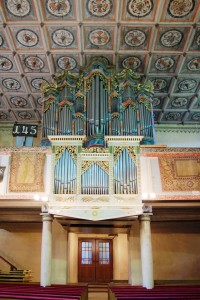 The bell tower dominates the fortified church in Codlea. Its walls reach a thickness of 5m after having undergone several construction phases. The church was built during the 13th century and was transformed into a Gothic single-nave church two centuries later. The first Ottoman invasion convinced the villagers of the necessity of a good defensive system. Thus an 8m high and 2m thick defence wall equipped with embrasure and machicolation surrounded the church. Granaries were also constructed in its interior, and so not only the lives of the residents were protected, but also their goods.
The interior of the church is dominated by the painted panelled ceiling, which was constructed at the beginning of the 18th century and consists of 252 panels. Also impressive is the 1783 organ, one of the most valuable instruments in Transylvania built by the craftsman Prause of Silenzia and decorated by the artist Oelhan.
Place and surroundings
From the newly refurbished square in Codlea one can admire the fortified church and picture its centuries-old history. One can try to imagine how this picturesque appearance might look 400 years ago, when Prince Gabriel Báthory besieged the castle. He promised at that time to spare the lives of the inhabitants and the warriors who came for helping from Braşov, if they would voluntarily surrender. However he never kept his promise. The defenders of the fortification were killed and the castle was occupied.
But soon the situation changed one more time due to an inhabitant of Codlea, named Thomas Göbel. First he tried to exit the gates with two wine pots. He was stopped and the wine was confiscated. Apparently angry he went away, but appeared shortly thereafter with other two full cans. Under laughter the wine was again confiscated. What Báthory's soldiers did not knew, was that the wine contained sleeping powder. Therefore it was possible for the people of Codlea to reclaim fast their fortification. Göbel has been named a hero and as reward he was freed for his lifetime of paying taxes.