At the last meeting of the Superior Consistory of the Evangelic Church A. C. in Romania, among other things, a new member was elected to the board of the Fortified Churches Foundation. In the future, Dr. Konrad Gündisch will be playing a leading role in the management of the monument preservation institution.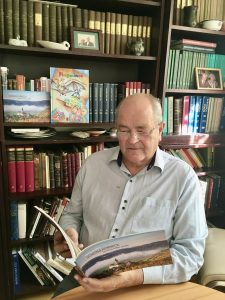 The specialist in Transylvanian history, who originates from Sibiu, has lived and worked in Germany since 1984. He is known to many through his activities at the Gundelsheim Transylvanian Institute at the University of Heidelberg, at the Federal Institute for Culture and History of the Germans in Eastern Europe (Oldenburg) and at the Institute for German Culture and History of South Eastern Europe at the LMU Munich. Most recently, Konrad Gündisch was chairman of the Transylvanian Cultural Centre Schloss Horneck Association from 2016 to 2021. At the state consistory meeting on 18 March, Gündisch was appointed to succeed the architect and historian Prof. Dr. Paul Niedermaier. The member of the Romanian Academy of Sciences had been a member of the board since the beginning.
Gratitude and recognition
Friedrich Gunesch, Secretary General of the Superior Consistory and Chairman of the Board of the Fortified Churches Foundation, thanks Professor Niedermaier for his work: "Especially in the initial phase of the Foundation, which is now coming to an end, the advice of the recognised expert Prof. Dr. Paul Niedermaier was very important and beneficial. We are extremely grateful for this and at the same time look forward to working with Konrad Gündisch, who is definitely a worthy successor to Paul Niedermaier through his many years of academic work for Transylvanian-Saxon historiography."
The Managing Director of the Fortified Churches Foundation, Philipp Harfmann, also expresses his gratitude for Dr. Paul Niedermaier's board activities. At the same time, he is pleased with the choice of the Superior Consistory: "Dr. Gündisch is not only an internationally recognized expert on the fortified church landscape. Through his many years of work in Germany, he certainly represents a decisive help for our foundation, which has been in close partnership with federal German institutions since its establishment."
In addition to Konrad Gündisch, the board of the Fortified Churches Foundation continues to consist of Dr. Carmen Schuster and Secretary General Friedrich Gunesch. All members of the board perform their duties on an honorary basis.