Since a few weeks, the touring exhibition of the Fortified Churches Foundation can also be viewed online. This was made possible by a grant from the Bavarian State Ministry for Family, Labor and Social Affairs.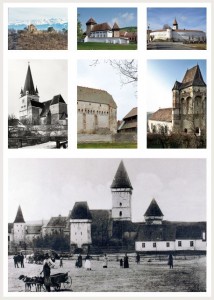 The exhibition was developed about five years ago by the Fortfied Churches Foundation in cooperation with the Technical University of Berlin, the German Cultural Forum Eastern Europe and the Evangelical Church A.B. in Romania. The subsequent tour took them to nearly 20 cities in three countries.
The contents were updated at the beginning of 2020. The  planned continuation of the exhibition's travels was made more difficult and postponed for an indefinite period of time by the restrictions imposed in many countries from March onwards in the wake of the corona pandemic.
On this occasion, the Fortified Churches Foundation decided to switch to digital channels. In cooperation with the Munich Haus des Deutschen Ostens and the Bavarian State Government, the exhibition content was prepared for digital presentation. Since July, this can be viewed in three languages on this website.