At the baptismal font of the Lutheran church of Vingard (church district of Sebeș), the first stone was laid on March 7, 2022 to save the sacred architectural jewel. Representatives of the District Consistory and the Fortified Churches Foundation met with the executing experts in wintry weather for the opening of the construction site.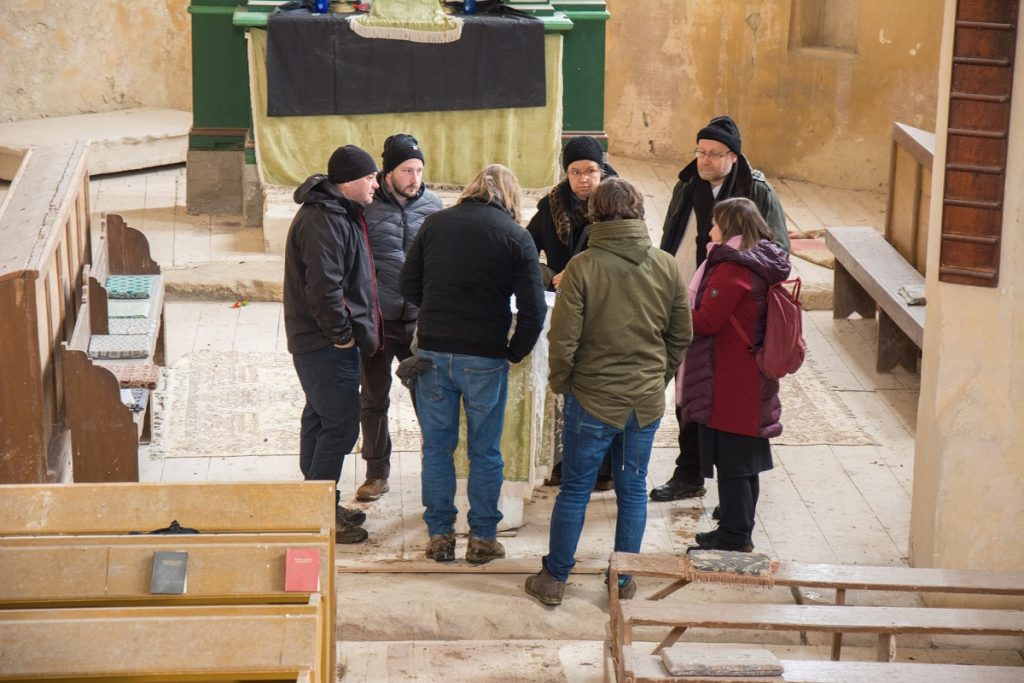 District dean Dr. Dr. Wolfgang Wünsch, his wife Britta Wünsch, Ecaterina Gál and Sebastian Bethge from the Fortified Churches Foundation, architect Tudor Pavelescu from Sibiu and contractor József Attila Gálfi (Domino Construct Expert) sealed the cooperation, which can be a first step towards saving the church. The work that will now begin will focus on the roof. Several damages in the past allowed water to penetrate, which led to consequential damages. In particular, the roof of the sacristy and the transition to the nave are in urgent need of renovation.
The structural measures are funded by the German Federal Commissioner for Culture and the Media (BKM) through the Transylvanian-Saxon Cultural Council and are carried out within the framework of the roof program of the Fortified Churches Foundation. In total, this roof repair represents an investment of more than 100,000 lei (over 20,000 euros).
Baujuwel im Unterwald
Die turmlose gotische Saalkirche stammt ursprünglich aus dem Jahr 1461 und zeichnet sich insbesondere durch sehenswerte Steinmetzarbeiten aus. Ihre Errichtung geht auf Johannes Gereb de Vingard zurück, der einst Eigentümer der Kellinger Gräfenburg gewesen war. Sowohl an der Außenfassade als auch im Innenbereich finden sich zahlreiche Adelswappen und Grabsteine adeliger Familien. Im 18. Jahrhundert wurde die Kirche innen barockisiert. Letzte umfangreiche Renovierungsarbeiten wurden in den 1950er-Jahren durchgeführt.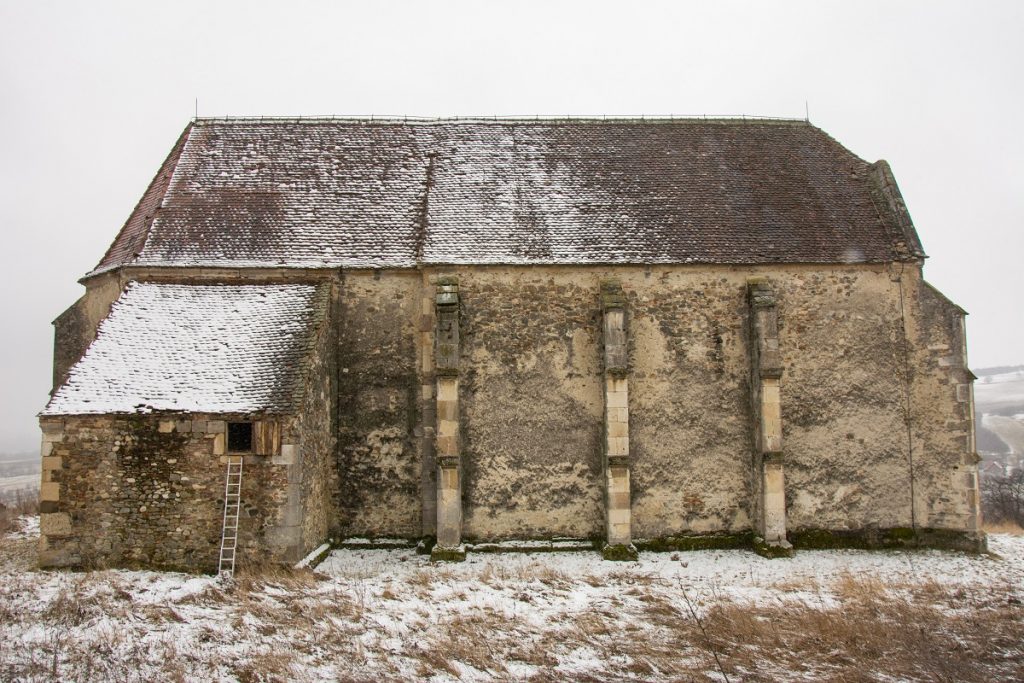 The towerless Gothic hall church originally dates from 1461 and is characterized in particular by stone carvings worth seeing. Its construction goes back to Johannes Gereb de Vingard, who had once been the owner of the castle in Câlnic. Numerous noble coats of arms and gravestones of noble families can be found both on the exterior facade and in the interior. In the 18th century, the interior of the church received Baroque elements. Last extensive renovation works were carried out in the 1950s.
Finally, in October 2020, after long negotiations, the valuable organ was dismantled and is awaiting restoration, after which it could find its way back to its original place, provided that concepts for using the church building are available and the structural condition permits this.
May the cooperation between the church district of Sebeș, the Fortified Churches Foundation and the companies carrying out the work, which was launched in March 2022, be the beginning of a complete rescue of this valuable architectural jewel!
Text und Photos: Stefan Bichler