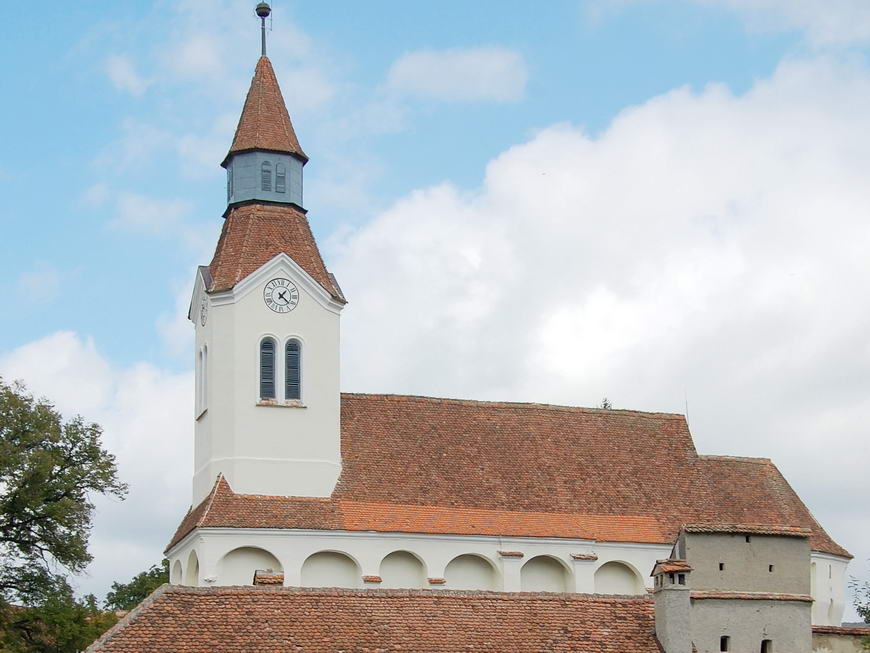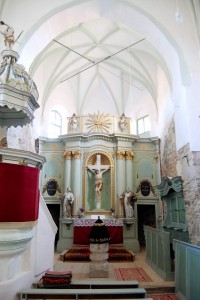 The 13th century late Romanesque pillar basilica was early prepared for battle by demolition of the side naves and fortification of the central nave and the tower by adding defence levels. The chancel was heightened in 1500 by adding a defence level with machicolations. The 1847 added tower marks the present image of the church. The interior impresses with its tall and narrow proportions, underlined by the two-story balcony on the northern side, erected between 1680 and 1775. The railings were painted by the Roessler family, grandfather and grandson. The fortification wall, originating in the 14th century was strengthen by four towers and had grain storage rooms on the inside.
Place and surroundings
In the hymn "Transylvania, sweet home" the verse "Transylvania, seabed of a flood long gone, a sea of grain now rests on the breast of heaven" is telling the story of the sea which once covered the region in Mesozoic times. The fortified church of Buneşti was built with marine sedimentary rocks as one can see from the fossils in the masonry. Residential houses of the same period were built with timber. When the village was under attack, the inhabitants took refuge from the looters and arsonists inside the fireproof fortifications. In times of war the massive tower was also serving as a retreat for the priest. The walls are still decorated with words of solace, bearing witness to those terrible times. Priest Johannes Nösner wrote these faithful words while hiding in the room: "Hör! Hast Vor eIne gVte SaCh, aber`s geht Von statt geMaCh, fahre getrost fort, nICht Verzag, es fäLLt keIn aLt EICh aVff eInn SChlag" (Listen! You are on the right path, if the going is slow do not despair, no old oak is felled with one stroke). The highlighted letters in the original text are roman numbers, which add up to the year 1680.
Activities
2010-2014 EU-finaced restoration project of the fortified church