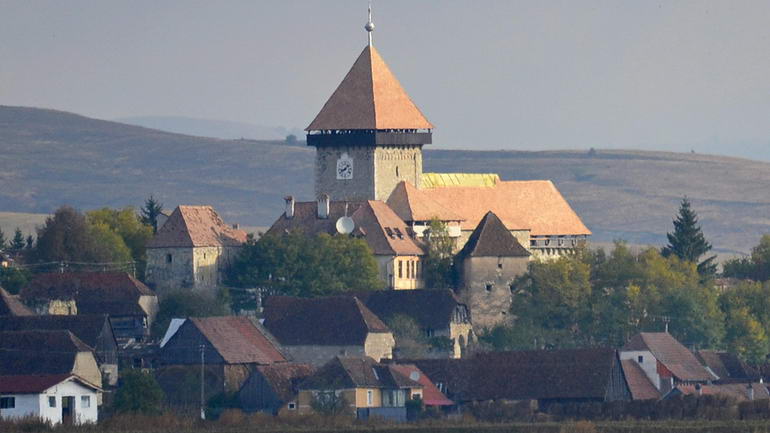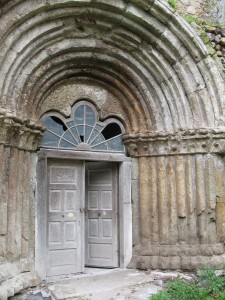 The Romanesque basilica with buttresses, western tower and chancel with apse was finished in the mid-13th century, thus replacing the former 12th century church. In the fortification phase of 1494 defence levels were built on the tower, nave and chancel. The chancel's walls were strengthened and heightened up to the nave's eaves and the side aisles were demolished. In the same period an 8m high defence wall with 5 bastions was erected and it is still preserved today. The Romanesque western portal is decorated with some of the most valuable stone carvings in Transylvania. From the Romanesque construction time the twin blind-arcades, today functioning as windows, are still preserved as well as the walled up round clerestory windows. Ample restoration works have been carried out for several years now and have revealed frescoes on large areas. The valuable 1638 furniture was initially stored away because of the restoration works, but was later moved to a different church for safety reasons.
Place and surroundings
Centuries ago, inside the stone walls of the fortified church that bear the grey marks of passing time, one of the most important legends of Transylvania was born. This legend tells how the first Transylvanian Saxon settlers vowed eternal loyalty to the king, thrusting their swords into the sacred land and thus forming the sign of the cross. Back then they foretold that, as long as the two swords exists on Earth, their people would defend these territories. Yet, their people's disappearance from Transylvania was predicted to happen along with the disappearance of the weapons. The swords were then sent to the most distant places of the kingdom, one of them reaching Orăştie, the other one going to Drăuşeni. Kept in the Evangelic church and honored throughout times as a symbol of courage and loyalty of the German people, but also as a testimony of their craftsmanship in creating weapons, the sword in Drăuşeni got finally lost in 1944 in the uproar of the war. Despite their disappearance in the darkness of battles, the two swords remained to this day on the coat of arms of the city of Sibiu: the precious symbol of an inestimable past.