Filitelnic / Felldorf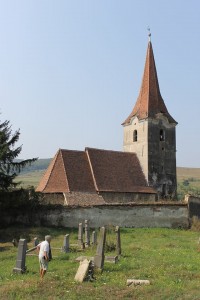 In the 15th century a Gothic hall church with a bell tower and pointed windows was built. Over the centuries the building went through various repairs and modifications, among which is worthy to mention the renewal of the bell tower's roof in 1787 and full restoration of the church, of the surrounding wall, the bastion and the portal between 1580 and 1655.
The last repair took place in 1972, when the church and the bell tower were renovated and the fortification wall, the gate tower and the north tower were consolidated. Major damages to the church were already being reported in 1980 and since 1989 on the Sunday service is held in the parish house.
Every year the church showed more and more degradation. The roof of the chancel and then partially the roof of the nave became a ruin. But in 2010 a descendant of former inhabitants (Georg Fritsch jr.) together with the Arcus Association in Târgu Mureş adopted the church and started to successfully repair it. Since 2012 the church has a new roof.
Place and surroundings
Whenever a Transylvanian priest is asked about the location of Filitelnic, the answer is: in Mesopotamia. This doesn't imply the land between the two waters of the old Orient, but the land in the centre of Transylvania, between The Târnava Mare River ("Big Târnava") and the Târnava Mică River ("Small Târnava").
The first documentary attestation dates back to the year 1347. In the late Middle Ages numerous conflicts have taken place here, between the peasant and the landowners, concerning land ownership and employment obligations. The developments of the 20th century brought great changes: after in 1944 as most Germans in Northern Transylvania left, most villagers of Filitelnic followed the same path. The Saxon community has never recovered from these emigrations, thus the Evangelical Church was closed in 2000.
However, starting 2010, The Arcus Association of Targu Mures, together with Georg Fritsch jr. of Filitelnic, set up a training center for the preservation of the fortified church. With the help of volunteers, major repairs could be done to the church and the enclosure.