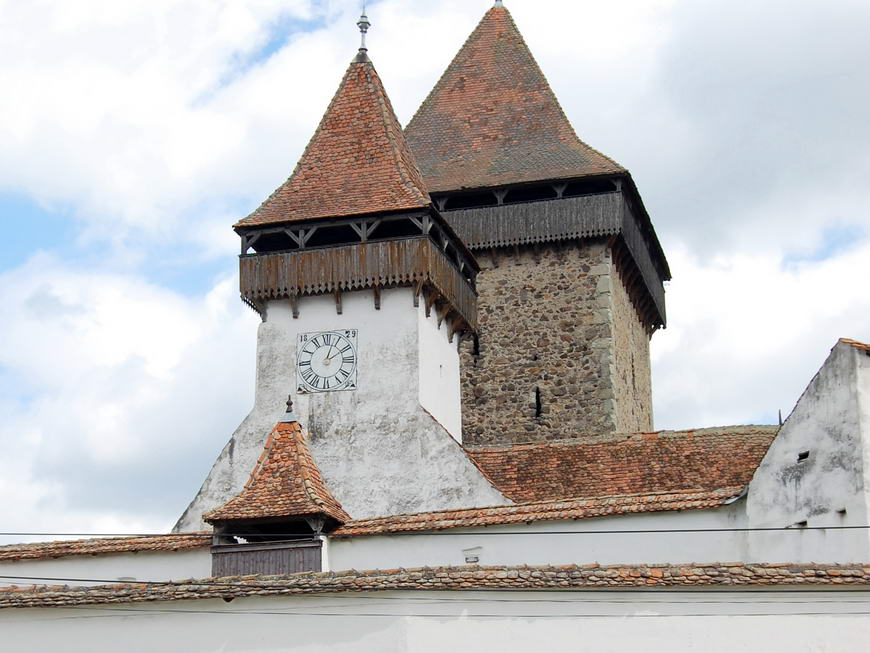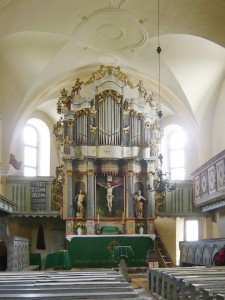 One of the mightiest defence towers in Transylvania features eight levels and is constructed above the initial chancel of the Romanesque basilica built in Homorod during the 13th century. The tower itself was built in 1550 in the church's fortification phase, when the chancel was detached from the nave and the smaller western tower continuing the side aisle was flanked by two side constructions. Two defence walls protected the assembly: while the outer exterior had no towers, but an outer bailey, four corner towers strengthened the inner wall.
In 1784, under the pressure of a constantly growing community, the church had to be enlarged by building a chancel on the southern side. After the fire in 1792 the church received its valuable late Baroque furniture, the painted flat ceiling, the ornamented galleries and a richly decorated organ altar. The mural painting fragments which are preserved in the chancel present depictions dating back to different eras, varying from 1270 to the late Middle Ages.
Place and surroundings
The village of Homord is famous for its mineral water springs and spas. In the old days gone by, there was a story of a marvelous spring, which was said to have been touched by magic. Providence had offered that water to the poor people, who could use it, as the story goes, instead of milk, yeast and salt. Nowadays, if this magic water is kneaded with flour, the dough increases its volume three or even four times. Less mysterious, thus very impressive are the valuable frescoes inside the church, considered to be the oldest in Transylvania. The mural painting is to be found on the walls of the former chancel and it was never varnished, due to the fact that this room has been separated from the church during the fortification phase and a new chancel has been built. The frescoes fragments have been created in three different phases, the late Gothic ones being considered the most valuable.