Seleuş / Großalisch

In the already free community by the end of the 14th century, a church hall in the late Gothic style was erected. In 1500 it was surrounded by an irregular defence wall, which still exists today. On the southern side there is the imposing gate tower, which serves as a bell tower at the same time, being endowed with machicoulis and a wooden defence floor, covered by a pyramidal roof.
At the beginning of the 19th century the church went through many changes: the building was extended to the west, the nave was covered with a stuccoed ceiling, while the chancel preserved its ribbed cross vault.
The interior furniture from the 19th century comprises the three side wooden gallery built on columns, the organ from 1843 and the beautiful neoclassical pew in the chancel. The painter Andreas Hermann from Sighişoara made the altar as early as 1713. The interior still keeps the strict sitting order of the Transylvanian Saxons, with places for men in the galleries, places for women in the hall's benches, according to their age, as well as places in the chancel for the candidates awaiting confirmation and the members of the Presbyterian committee.
Place and surroundings
The village of Seleuş has many stories to tell. When taking a walk, the tr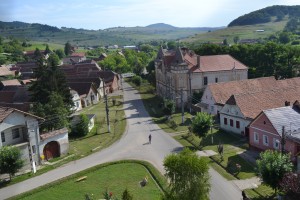 aveler will pass by mythical places, such as "The Silver Fountain" or "The Spring of Tears". Hundreds of years ago, near the place called "The Sunny Hill", there was a village destroyed by wars, a location from which only the name survived: "The Sunrise Village". This is where the water of "The Silver Fountain" springs from, flowing away with a story of great suffering.
It is said that two brothers found a treasure in this place. Soon after the fraternal love changed to hatred and one of the brothers became a murderer. As remainder of the abominable event, the place has been since known as "The Hill of Murder". Horrified by his own deed, the criminal left the tragic place, fell down in desperation and shed icy tears. The place where his tears fell on the ground is the same one called "The Spring of Tears" today. The path on which he ran from his own hatred still has clods of ground. People say that these clods fell off the runaway's shoes, as if the ancestors' land was opposing his salvation through escaping.