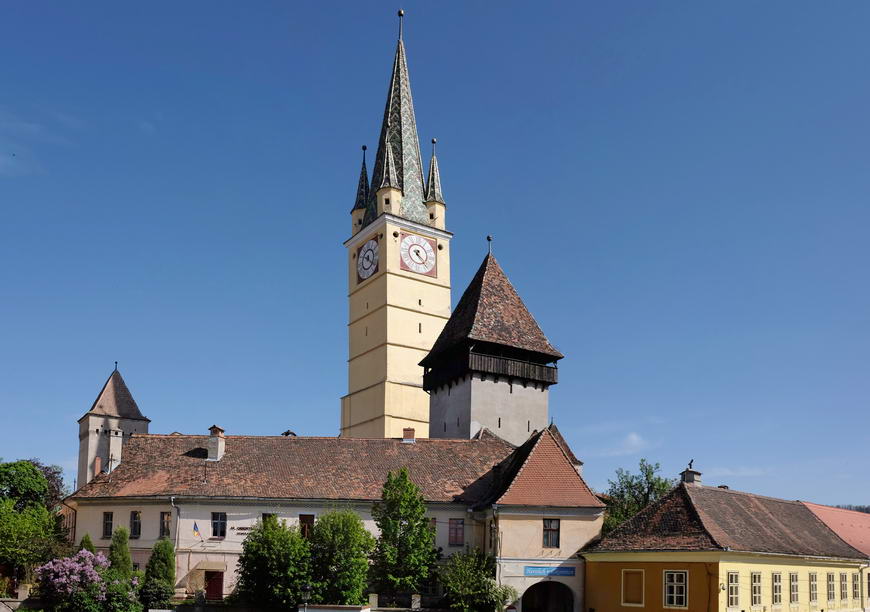 Among the town cathedrals of Transylvania, Mediaș stands out due to the fact that not only the church, but also the whole castle complex are entirely preserved. Today's appearance of the church dedicated to St. Margaret traces back to two preceding buildings, which had to undergo many alterations until 1482. The western tower on the other hand reached its full height only in the middle of the 16th century.
The interior of the church has an asymmetrical cross section, being a combination of basilica and hall church. By keeping the low height of the northern aisle, a series of outstanding medieval wall paintings were preserved on the wall of the nave above. The winged altar of 1485 is a masterpiece of the pre-reformation age. Furthermore there is a collection of important altars transferred from abandoned or endangered churches on display.
Inside the ring wall with its five towers the ensemble of Old Town Hall, school and parish house is cuddling around the church. In the south tower St. Mary's chapel shows its well preserved pre-reformation frescoes. The inner ward depicts the development of the civic life in a Saxon town shaped over centuries, featuring the elements of church and defence, education and administration. Even today the buildings of church, school and parish house serve their original functions.
Place and surroundings

Mediaș, already appointed as city in 1359, attracts an increasing number of visitors under the theme "The secrets of the Castle of Light". Mysterious are actually in this medieval city not only the legendary underground labyrinth and the solar and Masonic symbols, but there is plenty more to explore and discover.The outer walls of the inner town castle, which is considered the strongest Saxon fortified town church that is still preserved, surrounds Margaret's Church, the old town hall, the former schools and many other buildings such as the birthplace of the humanist Stephan Ludwig Roth. Five towers also protect the assembly. The Trumpeter tower next to the church, with its eight floors is not only the tallest building in the city and thus the symbol of Mediaș, but also famous for its tilt. The almost 70 meter high tower has a pointed spire and the four corner towers testifying on the legal right on live and death that Mediaş had.