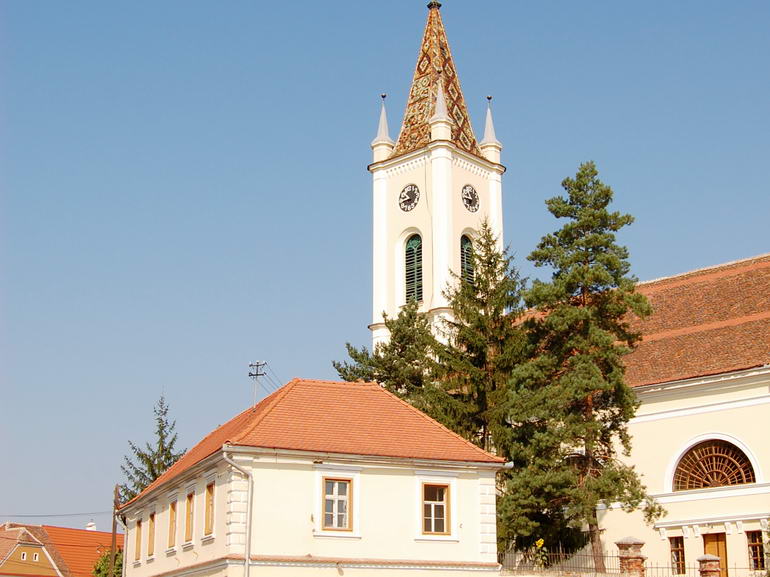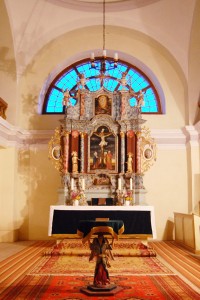 The fortified church in Apoldu de Sus was erected after the demolition of the old Romanesque basilica preceding it. A church hall was built in 1836 and completed with a tower in 1867. The interior is a nice example of a neoclassical church, where the altar from 1751 and the organ from 1816 are still preserved, both of them originating from the old basilica. Only ruins of the old fortifications still remain. Nevertheless, one can notice the well-preserved structure of the traditional village, with narrow walk paths and typical farms on both sides of the main road.
Place and surroundings
Apoldu de Sus is one of the three so-called " Landler villages", where the deported Austrian Protestants settled in the 18th Century. As they arrived, they found a desolate, depopulated place, thus forming the majority of the population. Therefore the Landlers could preserve their language and traditional costumes.
Starting with the 13th Century Apoldu de Sus grew to one of the most important Saxon settlements in the area. Even so, mid-17th Century the village was completely burned down and in the years to follow the population was decimated by famine, plague and war. In 1689 the local priest wrote a chronicle about the desperate situation of the inhabitants. The Landlers' arrival century meant a considerable improvement of the economic circumstances of the place.
Guest Rooms
Accommodation is available in the church guesthouse.
Information & reservation:
Rev. Meitert
phone: +40/269/534 109