Sibiu / Hermannstadt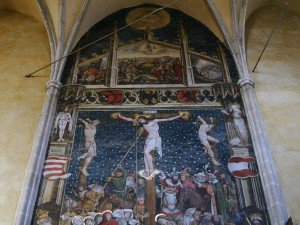 Today's appearance of the impressive parish church in the medieval city is the result of several alterations of the original Romanesque church, which was built near the first city wall. After its demolition in the 14th century the dimensions of the following Gothic church accounted for the growing population and the significance of the city. Chancel, transept, and the lower part of the tower were completed in 1371, whereas the nave was finished only in 1445 after an interruption of the works. In 1448 the nave was enlarged to the west, thus surrounding the tower. At the end of the 15th century the nave was changed to a hall church at the south side. The newly built gallery was covered with a lierne vault. In 1494 the tower, measuring 73 m, including its distinctive spire was completed. Finally the northern part of the transept was extended by one bay and on the south side the entrance hall and the spiral staircase for the tower were added. The noticeable roofing made of colored glazed tiles dates back to the 16th century.
The interior is dominated by the towering piers and the Gothic rib vault in the nave and the light-flooded chancel. Around 1900 during a general renovation the plaster of the interior walls was taken down completely leaving of the original decoration only a wall-painting showing the crucifixion on the northern wall of the chancel. There is a collection of renaissance epitaphs of distinguished Sibiu citizens.
Place and surroundings

Since ancient times Sibiu has been the center of the Transylvanian ecclesiastical life. It is not in vein that it was named "The City of Churches" and it was described by Pope Eugene the 4th as "a fortress, which defends the entire Christendom". If only to consider its center, one can admire here many religious buildings pertaining to all the architectural styles that have dominated Europe throughout history. The most impressive of them, having a 73,30m high tower, the second highest medieval construction in the country, is the Evangelic cathedral, the heart of the religious and political life of the Saxons.
The first building was erected in Gothic style in 1448, before the protestant reform. Its seven roofs are the symbol of the "seven thrones", which was the administrative organization of the German colonists. The entire construction is a grandiose art work, protecting countless treasures between its walls: the ensemble of epitaphs and funeral stones of great personalities of Sibiu, the organ, the largest musical instrument in Transylvania, or the bronze font which, according to a legend, was made by melting an Ottoman cannon.