Aţel / Hetzeldorf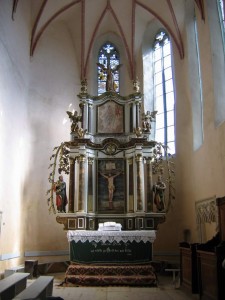 The importance of the village of Aţel in the Middle Age results from its Gothic basilica which was built in several phases, boasting a transept, a sacristy, and a western tower. The impressive stone carvings on the pillars of the middle nave originate from the first building phase in 1380, while the rich decorated western portal might have been added in the second building phase at the beginning of the 15th century, when the fortification wall was built. In 1499 the third building phase was completed with the construction of the vaults above the naves, the heightening of the chancel and the building of the upper floors on the tower. Inside the church, beside the magnificent capitals of the pillars one can admire, the late Gothic sedilia and the finely crafted portal of the sacristy are very remarkable. The chancel boasts a pew with carvings and inlay work dating back to 1516.

Place and surroundings
Johannes Klatt, better known as Hansi, has been for many decades the castle guardian of Aţel. He rings the bells three times every day. His job is particularly hard if one of the villagers dies. The bells have to be rung for a full hour, which is strenuous work, while the bell ropes in the tower will pull Hansi up and down. If a storm is approaching he will rush to the tower and ring the bells until the threatening clouds have passed. In his way Hansi is protecting the village from many dangers.Once in a while he will climb the steep wooden stairs to the top of the tower, passing Gothic windows, which were bricked up many years ago when Aţel was still threatened by the so-called "runners" and "burners". From the height of the defense platform he will let his eyes wander over the red and brown roofs of the village, then follow the bends of the road, which disappears between the vineyards to the north. No enemies are to be seen nowadays, only tourists from time to time.