Nocrich / Leschkirch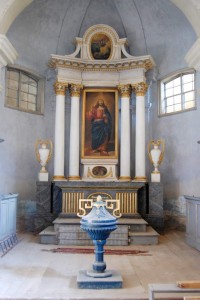 The 13th century Romanesque basilica was demolished at the beginning of the 19th century, after a new church had been built in the neighbouring precinct in the same time. Disregarding the canonical orientation, the construction was built on the NS direction, with the chancel northward and the bell tower southward. The fortification, which was constructed in the 15th century around the old church, was enforced by five defence towers and had an outer bailey. End of the 18th century the number of towers raised to seven, but only for a short time: just few years later a big part of the wall was demolished and the resulting material was used for the construction of several administrative buildings.
The interior furnishing of the church boasts a unitary neoclassical style. The original lining of the galleries is still preserved and it has the form of a shirred curtain.
Place and surroundings
On the side of the main road that crosses the village founded in 1150, the fortified church proudly appears, while across the street there is a rather dull little house. Its appearance may not be imposing, but its history is worthy of great esteem, this being the birthplace of the remarkable baron Samuel von Brukenthal, the only Transylvanian Saxon who ever held the position of Governor of the Great Principality of Transylvania.
Born in 1721 in Nocrich and deceased in 1803 in Sibiu, Brukenthal studied history, philosophy, theology and administrative sciences in Germany. The beginning of his illustrious career was marked by his marriage to the daughter of the mayor of Sibiu, his success reaching a peak in 1753 with the audience he was granted by the Empress Maria Theresa, who would appoint him governor a few years later. A dedicated collector, Brukenthal possessed numerous art works, paintings and valuable coins that, together with an impressive library, he kept in the "Brukenthal Palace" in Sibiu. Years after his death, the stately museum was opened for the public in 1817, being one of the first such institutions in Europe.