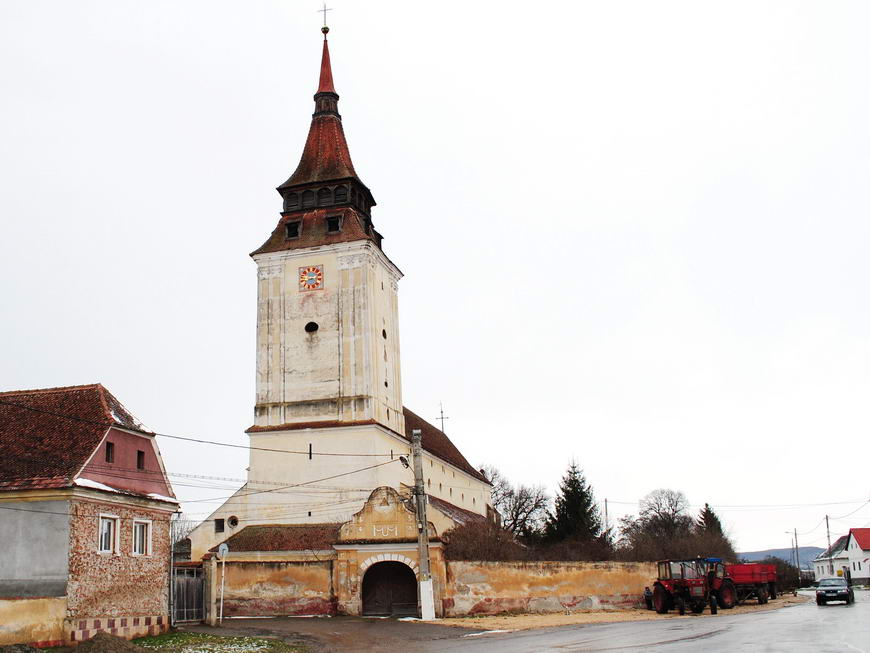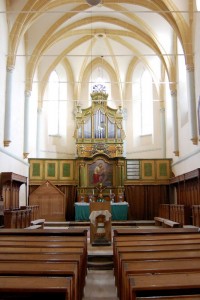 The Evangelic church and the ruins of the Teutonic Knights' fortress, separated only by a ditch, are the pride of Feldioara. The 13th century Romanesque basilica with three aisles and a later added bell tower shows an interesting particularity, a vaulted gallery at the second level of the tower dedicated to the founder of the church. During the 18th century the tower is provided with a roof, constructed after the model of the Black Church in Braşov.
The interior of the church is covered with crossed vaults, which in the chancel are supported by half-column piers. Their capitals are decorated with vegetal, anthropomorphic and biblical motifs. From the pre-reformation altar only few parts were preserved and moved later to the Black Church. From the curtain wall only some remains still exist, while the boulder walls of the nearby Teutonic fortress still stand. The latter's defence walls were 4m thick and enforced with four towers. The remains of a chapel within the enclosure can still be seen today.
Place and surroundings
The fortifications of Feldioara will always remain in old scripts and paintings in its full majesty, as the Teutonic knights built it 800 years ago. At the beginning of the 13th Century, King Andrew the 2nd of Hungary offered The Land of Bârsa to the Teutonic Knights Order for them to defend the eastern border of the growing empire. The knights received in exchange immunity and the right to autonomy and self-governance. Pope Honorius the 2nd even granted them the right to start a state.
In 1211 one started with the building of a new fortress. This caused concerns to the Hungarian aristocrats, who then imposed in 1225 the permanent banishment of the Order from the region. The administration of the village was taken over by the Cistercien monks, which in the same century started building the fortified church with the help of the villagers. The church has been over centuries the cultural and religious center of the Transylvanian Saxons and stands today not far away from the ruins of the knight's castle, in the middle of the village.