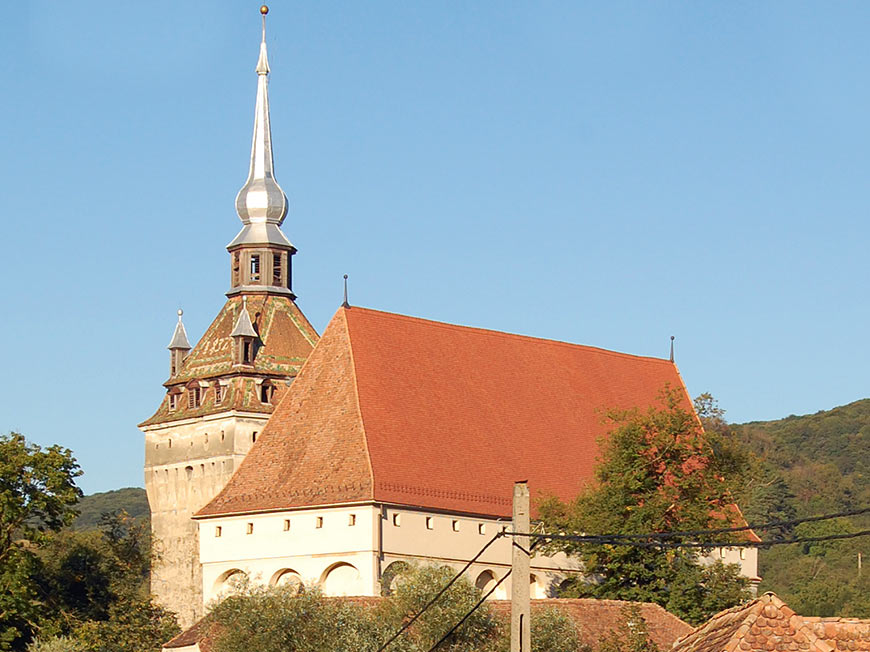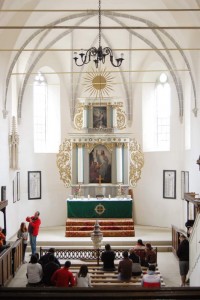 The late Gothic aisle-less church was built between 1493 and 1525 replacing a Romanesque basilica. It was provided with a defence level sustained by high buttresses and extended over the nave and the chancel, which is only a little less narrow than the nave. The lierne vault of the nave was reconstructed in 1878.
The interior furnishing is mainly Baroque, except the Gothic pew in the chancel, which is richly decorated with carvings. On the exterior walls fragments of writings were preserved. From the initial defence wall only the northern tower is still preserved. In 1677 it was provided with a distinctive spire, similar to the clock tower of Sighişoara.
Place and surroundings
UNESCO could not overlook the historical value of this village, therefore in 1999 Saschiz was awarded its well-deserved place on the list of the world's heritage. The fame of the place was created not only by the imposing fortified church, but also by the peasant fortress built in the 14th Century.
Unlike most fortified constructions of this type, this one was not placed in the middle of the village, but at a distance of about 2 km, so that not only the inhabitants of Saschiz but also those of the neighbouring villages could find shelter inside its walls. The once solid fortified walls now hardly withstand the leaden-hued burden of time, and yet their ostensible lack of vigour is compensated by the medieval charm of the legends that accompany them.
It is said that the fortress had belonged to a virgin who, lacking heirs, donated it to the villagers after her death. The threatening hill in the southwestern part of the village is said to hide not only unknown treasures, but also their guardian, the spirit of a giant wearing a noose instead of coat of arms, who once in a year disturbs the silence of the night with ghostly sounds.