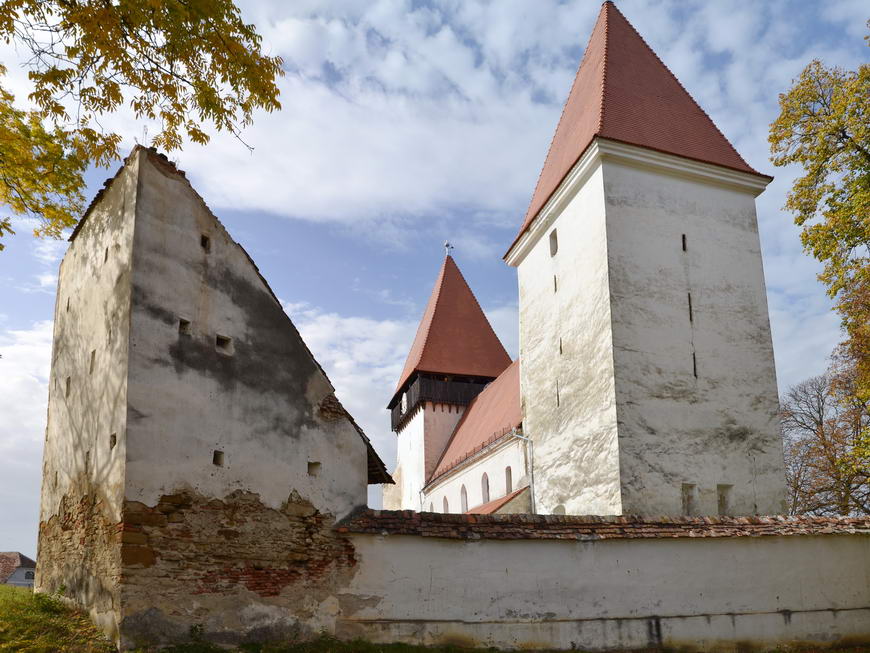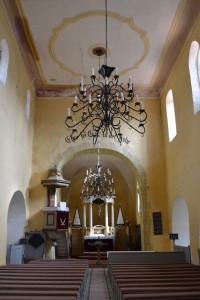 The Romanesque basilica from the 13th century has been largely preserved, as is testified by the connection between nave and side aisles. Two centuries later, during the fortification phase, a tower with later demolished parapet walk was erected above the chancel. The defence level of the western tower and its timber frame parapet walk is still preserved. This type of church with two towers is also found in the neighboring village of Dealu Frumos. The square ring wall with two defense towers had loopholes and parapet walks. From the last one only the insertion holes of the beams are still preserved. The gate tower was once home of the castle guardian.
Place and surroundings
Not far away from the geographic center of Romania lies the small village of Merghindeal. On a high ground in its middle the mighty fortified church that still preserves many late Romanesque elements was built. Interesting for visitors can be also the mysterious underground room under the church.
It is said in the village that the well-known animosity between wolf and fox started right here. They were set on having a feast on the occasion of a wedding in Merghindeal. The wolf, being lured by the pantry that was filled with provisions, rushed upon the goodies without any hesitation or remorse. On the other hand, the fox first inspected the little window that they had used to enter, to make sure that it would allow her to exit. When caught in the act of stealing, as the inevitable moment arrived, the fox swiftly ran outside, while the wolf, which had eaten plentifully and greedily, was too slow to escape before getting his well-deserved punishment. Because of this happening the wolf and the fox cannot stand each other since then and this situation spread much beyond the borders of Merghindeal.