Roşia / Rothberg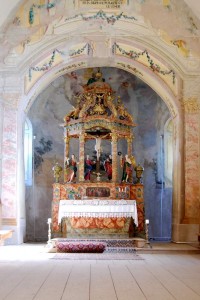 Even though the fortified church in Roşia still bears the marks of the past, it also keeps several elements of the initial 13th century Romanesque basilica: the chancel, the triumphal arch, the piers between the main nave and the side aisles, as well as the clerestory windows. The church was fortified during the 16th century, and two centuries later the majority of the windows were built, as well as the church's western entrance hall. The nave was covered with a vault buttressed by piers with capitals during the 19th century.
The interior is dominated by a remarkable Biedermeier style painting above the triumphal arch. Greatly ornamental are the 1682 Baroque altar featuring six Corinthian columns and canopy, as well as the pulpit canopy from 1781.
Place and surroundings
Even though the village is only few miles away from Sibiu, it gives the impression that the time stood still decades ago. In the center of the village lies a well preserved Romanesque basilica, which still keeps some remains of its initial defense system. The fortification withstood many attacks in the past, such as the one in 1600, when Michael the Brave's troops burned down the entire village.
Eastern from Roşia, on a hilltop called "At the Fortress", one can find the remains of a wall. Still its origin remains a mystery.
Nowadays the name of the village is linked to Eginald Schlattner. Schlattner was serving here as priest until retirement and even today he is taking care of the souls of the imprisoned ones. He became famous due to the three novels he published between 1998 and 2005. Having a predominant biographical character, the books address the issue of Romania's development beginning with 1930.