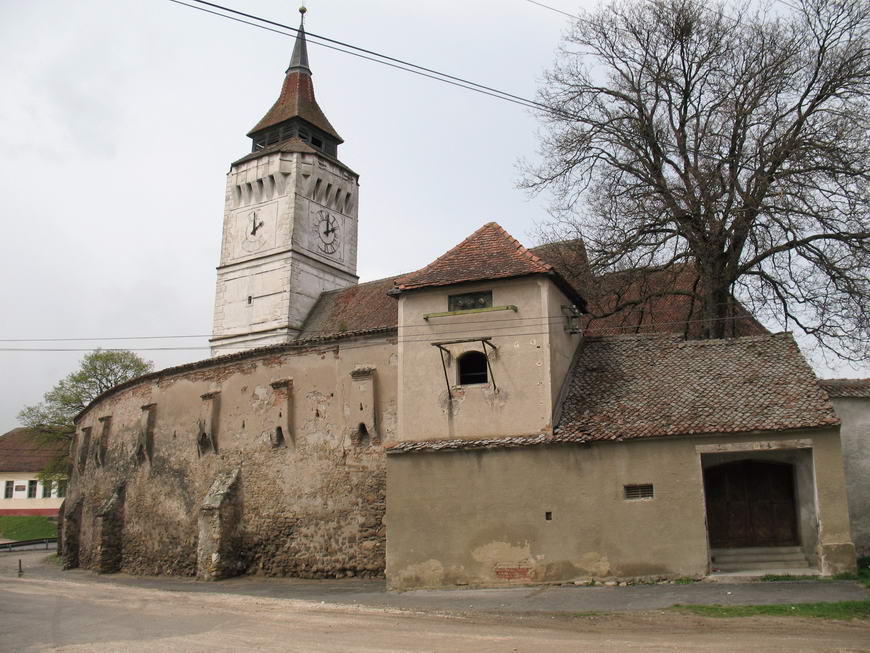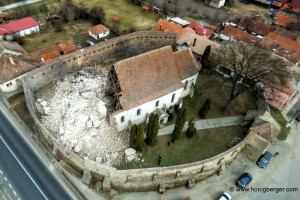 The small Romanesque hall church erected in the 13th Century with square chancel, apse and western tower was fortified in the 15th Century. The walls of the tower were strengthened and a parapet walk was built and it was provided two centuries later with a mighty machicolation. Even the curtain wall with loopholes and machicoulis was built in the first fortification phase. No remains have been preserved from its gate tower and the parish house later replaced the eastern side. The roof of the tower is inspired from the bell tower of the Black Church in Brasov and was built after a fire in 1738.
The chancel with domical vault and the nave with flat ceiling are furnished in Baroque style. Valuable are the backless benches of the women whose beams are joined together with a single dovetail and the clock built by the company Zachariä from Leipzig, which was impeccably maintained. The clock got lost when the tower collapsed in february 2016.
Place and surroundings
The chronicles of the smallest village in Ţara Bârsei mention that during the 13th Century, hoping for a better future, 20 Saxon families settled on the banks of a river, approximately 1.5km to the West from today's location. Yet, their peaceful living was violently interrupted by a devastating enemy invasion. The inhabitants are said to have washed the wounds they got in battle in the local river, whose water turned red because of their blood, from where came the German name of the place "Rothbach" (the Red River) and the Hungarian one "Vörösmart" (the Red Banks). After this event the colonists moved East, founded the village and built the church.
Three circles are sculpted in the girder of the entrance gate: before the Protestant Reformation these used to symbolize "The Father, The Son and The Holy Spirit", and after that the significance of "love, faith, hope" was added to them. The three circles still exist on the coat of arms of Rotbav nowadays.