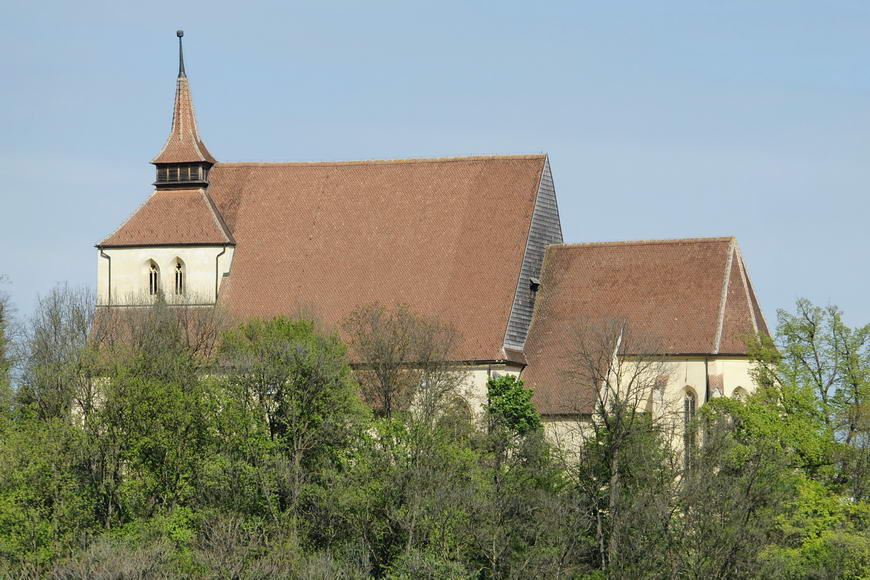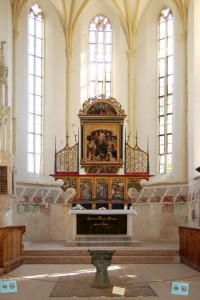 The three-aisled Romanesque basilica called The Hill Church (Biserica din Deal) evolved from the chapel of an early Szekler- or Noble castle. It had a bell tower at the western side, which was later incorporated into the new hall church during alterations in the 14th century. Soon after the reformation the church was not used as a parish church anymore but as a chapel for the Saxon school. Wooden vaults replaced the Gothic vaults of the chancel end of the 19th century. On the interior walls medieval paintings were preserved and they were uncovered during the restoration works financed by the Messerschmitt Foundation in 1995. Remains of the original inventory are valuable Renaissance tombstones, the beautiful tabernacle and a carved Gothic pew. Today the church has been converted to a museum, where a variety of important altars from abandoned or endangered churches and a collection of storage chests dating to the 17th and 18th Century are on display.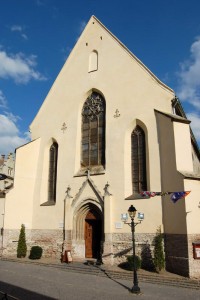 The former Monastery's Church (Biserica Mănăstirii) of the Dominican order was used as parish church after the reformation as of 1555. The other buildings of the monastery were then converted to accommodate the town hall. Later in the 19th century they were dismantled by the Hungarian administration. The Gothic hall church derived from an earlier Romanesque basilica first mentioned in 1298. The four-bayed nave is followed by the long narrow chancel, which still preserves its original Gothic vault. Today the interior appears cramped because of the galleries that were built into the aisles. The original inventory is reduced to the baptismal font of bronze dating to 1440 and the splendid baroque altar of 1680. Hanging on walls and galleries there is a collection of precious carpets originating from Anatolia in eastern Turkey dating back to the 17th and 18th century.
Place and surroundings

Sighisoara – the "Jewel of Transylvania" – is a medieval castle town still entirely inhabited and unique in Europe. The historic center was therefore appointed in 1999 as a UNESCO World Heritage Site. Originally, the mighty fortress had 14 towers and five bastions. Nine of these towers have been preserved until today. They bear the names of the guilds that built them.
Every year in July, here is organized the Medieval Festival. The historic houses of the inner city, as the "Venetian House" or the "House with deer" and the eight churches create a special atmosphere. One of them, the monastery's church was first documented in 1298 and belonged once to the Dominican Order. A cloister it was connecting the church with its monastery. After 1550 the monastery became the seat of the town hall. It is said that the faces of the disciples in the scene of the Last Supper on the alter features similarities with the faces of the former City Council members and the pastor, which underscores the important role of the church for the religious and social life of the community.