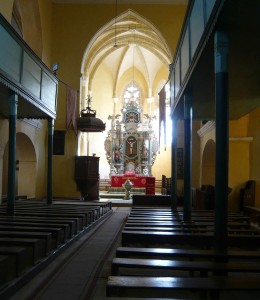 Şaroş could probably pride itself during the 14th century with a large community who was able to build such an imposing three-aisles Gothic basilica. Similar to all fortified churches, this one too was subject to a great number of changes over the course of time. Out of spatial and security reasons, the main nave and chancel were fortified, the side aisles were demolished and the bell tower was built on the western side during the 16th century and was also provided with a battlement walk on wooden consoles.
Considering the constructive measures as well as the details, the fortified church shows many similarities to the Evangelic Cathedral in Sibiu. Equally remarkable is the so-called "round bastion", actually the remains of a Romanesque chapel.
Place and surroundings
In the monograph of the village named Şaroş pe Târnave a legend full of wisdom can be read: by approaching the village, the first place that presents its view to the traveler is the graveyard, a symbol of grief and human transience. And yet, after entering the village as such, the graveyard disappears, being replaced by a new symbol: the fortified church, a bastion of faith. While the image of the graveyard reminds of the awful spirit of death, the sacred church offers hope and faith in eternal life. The imposing building impresses from its very entrance: the pilasters, which withstand the weight of ages with dignity, flank the main portal.
In the middle of the altar, which dates back in 1774, the wood carved sculpture of the crucified Savior dominates. On each of its sides there is a real size statue showing Moses and Aaron. Both these art works and the spiritual values of the village stand as proof of a rich cultural past, which still faces the centuries to the benefit of generations to come.