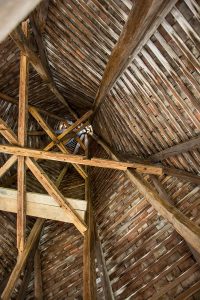 Already at the end of March the construction site at the fortified church of Ormeniș (church district of Sighișoara) was opened. Now, on April 5, 2022, a detailed inspection took place on site with representatives of the Fortified Churches Foundation and experts. Before the end of this year, the architectural monument will have taken an important step towards its rescue.
Besides Sebastian Bethge and Ecaterina Gál (Fortified Churches Foundation), architect Tudor Pavelescu, the representatives of Horanca Ighiș Construct and restorer Lórand Kiss, director Bulcsú Ötvös Koppány and Dr. Ünige Bencze from the County Museum of Târgu Mureș were also present on April 5. Part of the work will be the repair of the system for the drainage of rainwater inside the walls of the ring. Because of the works required for this, archaeological experts must also be involved on the part of the public authorities, in accordance with the legal framework.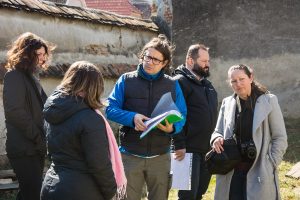 In addition to the new drainage system, which will protect the valuable church from moisture penetration in the future, the main focus of this construction project is roof work. Damaged wooden elements are to be repaired and, if necessary, replaced, as are individual roof tiles. The construction company has already repaired a number of wooden elements and installed a staircase railing to make the tower safer to climb. All these projects are funded by the German Federal Commissioner for Culture and the Media (BKM) through the Transylvanian-Saxon Cultural Council and are part of the roof program of the Fortified Churches Foundation. The investment amounts to almost 30,000 euros.
Several small interventions in recent years
After inscriptions and wall paintings were discovered in 2017 in the course of repairs to the ring wall and minor securing work on the church by the Fortified Churches Foundation, attention began to grow for the hall church of Ormeniș, which was built in the 16th century. In the meantime, an alarm system and bars on the windows were installed. Thanks to the support of Ormeniș resident Helga Knall, who lives in Germany, it has also been possible to repeatedly finance minor repairs. The work that has now begun should be completed in the summer and will take the Ormeniș fortified church a decisive step further towards restoration.
Text  and Photos: Stefan Bichler