The church building including the fortification and bell tower in Daia (church district of Sighisoara) has been the focus of the Fortified Churches Foundation for many years. With the support of the "Ambassador's Fund for Cultural Preservation" (AFCP) several important measures have already been taken. Most recently, the roof of the nave was saved.
US Ambassador Hans Klemm, a friend and supporter of the Transylvanian fortified churches for years, had supported work and protective measures at the Daia (jud. Mures) fortified church with an additional grant of 24,900 US dollars for Christmas 2018. The roof work was completed in autumn 2019. The beams of the roof truss were partially renewed and about two thirds of the plain tiles were replaced. Furthermore, the external staircase for the roof truss was repaired and the covers of the supporting pillars were revitalized. In addition to the roof work, work was also started on improving the drainage system of the entire facility.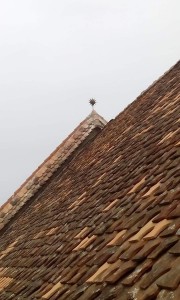 Shortage of materials and skilled workers delay progress
Sebastian Bethge, Representative for Monument Preservation of the Fortified Churches Foundation, would have liked to have completed the work on the fruit house and the curtain wall in the past year. Unfortunately, however, the kiln for the production of hand-made roof tiles in Hosman has since ceased operations and the rare, handmade plain tiles are currently produced exclusively in the roof tile factory in Apoș near Agnita. This last remaining specialist company in the region is desperately looking for personnel and is trying hard to meet the demand. During the work on the roof of the nave in Daia, therefore, roof tiles were even "borrowed" from the fruit house to complete the project.
Romania has one of the lowest unemployment rates in the entire European Union at less than five percent. With the country's accession to the EU, hundreds of thousands have taken advantage of the free movement of workers to seek their fortune abroad. Among these migrants are a number of qualified skilled workers as well as craftsmen and construction workers who are now lacking at home. "What can be a blessing for the happiness and opportunities for development of those affected often turns out to be a curse for the pace of work – especially in the construction industry", Sebastian Bethge sums up: "Nevertheless, we will continue to work with local companies and workers from the region in the future, wherever possible".