On
May 15th, 2023, at 17:00
ath the Cultural History Museum of Åland (
Ålands kulturhistoriska museum
), HE Maria Ligor, the ambassador of Romania to Finland, and HE Konrad Arz von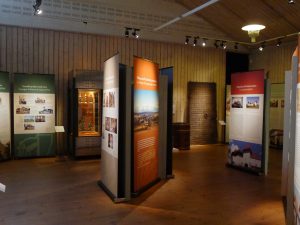 Straussenburg, the ambassador of Germany, will jointly open the itinerant exhibition "Fortified Churchs – Defense and Protection – An exhibition about Fortified Churches in Transylvania and Scandinavia", produced by the Fortified Churches Foundation from Sibiu in collaboration with the Technical University of Berlin and completed by a section focusing on the Scandinavian fortified churches made by the Västergötlands Museum from Skara, Sweden.
The event will be attended by members of the autonomous Parliament and Government, representatives of the cultural and academic milieux, of the diplomatic corps, as well as of the community of Romanians living in the archipelago.
The colorful exhibition takes visitors into the unique cultural landscape of Transylvania, for a trip into the local multi-ethnic history, told by the dowry of fortified medieval churches. The approximately 160 ensembles are a testimony of the incomparable architectural heritage, in an environment of coexistence and local civilization, a significant part of them being included in the UNESCO World Cultural Heritage List.
After being shown in 25 other locations in five countries including Austria, Germany and Sweden, the exhibition will stop first in Mariehamn, the capital of the Åland archipelago, where it will remain open to the public until June 11, 2023.
In Finland, after Mariehamn, the exhibition will arrive in Helsinki, where it will be hosted by the German Church between June 12 and July 14, 2023, in Hämeenlinna, where it can be visited at the Central Library between July 15 and August 6, 2023, and in Turku, also at the Central Library, between August 8 and 31, 2023.