Five representatives of the parliamentary group of the Christian Democratic Union (CDU) and the Christian Social Union (CSU) from the German Bundestag visited Bucharest, Brașov, Cincșor, Hosman and Sibiu from October 5 to 7, 2022. Within the framework of the trip, the preservation of the fortified churches was also the focus.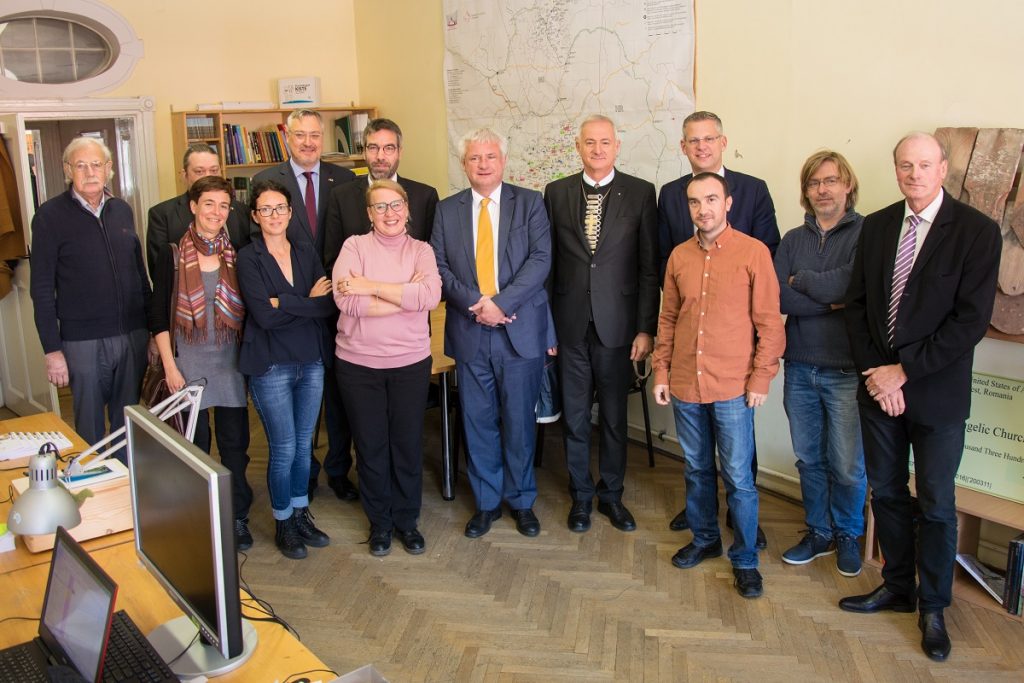 The group of visitors was led by Member of Parliament Christoph de Vries (Chairman of the Group of Expellees, Repatriates and German Minority / CDU). In addition, the members of the Bundestag Knut Abraham and Manfred Grund (both CDU) as well as Dr. Volker Ullrich (CSU) and Sven Oole (Executive Director of the Group of Expellees, Repatriates and German Minority of the Union Parliamentary Group) were part of the delegation.
In Bucharest, the delegation was received by the German Ambassador Peer Gebauer and had political talks in the Romanian Ministry of Foreign Affairs with the responsible State Secretary Daniela Gitman as well as in the Romanian Parliament with the Member of Parliament of the German minority Ovidiu Gant and the Undersecretary of State in the Department for Interethnic Relations Thomas Sindilariu. In addition to other substantive discussions with representatives of the Democratic Forum of Germans in Romania (DFDR), the politicians visited, among other places, the Black Church in Brașov. There Ágnes and Frank Thomas Ziegler granted them insights into the rich cultural assets of the tradition-rich Honterus parish. On a trip through southern Transylvania, the parliamentarians also got to enjoy the landscape of fortified churches and a beautiful view of the Făgăraș Mountains.
Visits to Cincșor and Hosman
How one revitalizes a fortified church ensemble – with parsonage and school, the guests in Cincșor could experience from Michael Lisske (association Contrafort). Philipp Harfmann (Managing Director of the Fortified Churches Foundation) and Stefan Bichler (EKR) described the great challenges facing the church and the foundation with regard to the preservation of most of the more than 160 fortified churches.
During the further journey via Cincu and Agnita to the Hartibaciu Valley, the German parliamentarians got an impression of the diversity of the fortified church landscape. Finally, the delegates were received in Hosman by the team of the Fortified Churches f
Foundation and representatives of the CEPIT Association. The representative for monument preservation Sebastian Bethge gave a guided tour of the church and afterwards there was time to review the impressions of the day during a dinner in the parish house.
Accompanied by Vice Consul Sven Kunert and Chief of Protocol Ioana Deac from the German Consulate in Sibiu, the group of parliamentarians met the following day in the Bishop's Palace for a discussion with Bishop Reinhart Guib and Lead Counsel Friedrich Gunesch, after which they visited the office of the Fortified Churches Foundation. On Friday afternoon, the guests were finally able to start their journey home with many new impressions from Romania and from the landscape of fortified church.
Photos: Stefan Bichler