…Movile – a small, inconspicuous, remote place in the upper Harbach valley.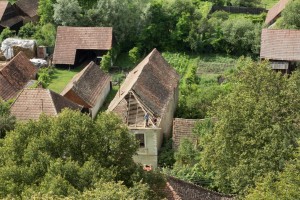 Here you will find everything: movement and awakening, relaxation and return, outlook and hope, tradition and innovation, encounter and salvation. The latter, next to the fortified church and parish house, above all at the old teachers' house. It was marked by decay and collapse until last year, almost abandoned.
Now it is being carefully restored by an ambitious and highly motivated team of Transylvania-interested people, landscape planners and architects, creators and creatives – who have joined forces to form the non-profit association "Churchfortess e.V. Friends of Hundertbücheln – Movile". Even the 2,000 roof tiles needed to repair the roof were ecologically collected from the village by horse-dr
awn cart and could be used.
The Fortified Churches Foundation has been involved right from the start and is helping the committed team. Last year more with consulting, in 2016 also with active participation.
The roof of the old teacher's house from the second half of the 19th century had collapsed at the back gable, many beams and roof
tiles were damaged by rainwater. With the help of traditional wood connections, however, a large part of the building fabric can be saved.