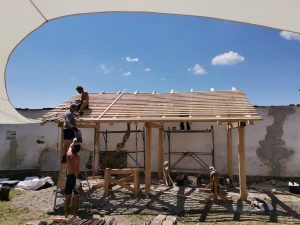 If you ask us what is new about each edition of the HANDS ON CONSERVATION III Summer School, it is first and foremost the team spirit that connects the participants around common interests and passion for the conservation of historic monuments, thus creating a heritage community.
The objective of this year's edition, held between 27 June and 8 July 2022 at the Fortified Church in Apold, Mures County, was to create a "traditional shed" with traditional materials and techniques that will serve as a shelter for future activities organized by the CasApold Association, a professional NGO in the field of monument preservation. The association took over the fortified church over 15 years ago and since then has been working on the restoration and revalorization of the complex.
The ten participants, eight from Romania, one from Italy and one from Germany, benefited from a theoretical introduction to monument conservation techniques, to the traditional architecture of Transylvanian Saxon villages, and last but not least from an introduction to the traditional craft of carpentry, through the presentation of working tools and their correct handling, the execution of typical Transylvanian wooden joints and the making of a traditional tile roof.
Their experience and interest in these techniques, helped them to finalize the proposed theme, so that the new traditional structure realized in the fortified church enclosure will end up already serving the organization of the next event of the CasApold Association: the Apold Heritage Lab, which starts on July 18, 2022, with students from Germany and Romania, being organized in collaboration with the European University Viadrina as a working project of the study program "Protection of European Cultural Heritage".
During the two weeks, the participants benefited from the support of our team, consisting of the project coordinator – Andreea Mănăstirean, the coordinator of the summer school and learning modules – Sebastian Bethge and the architect Tudor Pavelescu – Module 28, who designed and prepared the documentation for obtaining the necessary approval for the works. This year's edition also benefited from the financial support of the Romanian Order of Architects and the Prince of Wales Foundation Romania.
We are already looking forward to the next HOC IV in 2023!