Bod / Brenndorf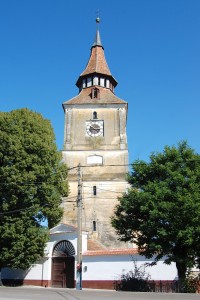 The fortified church in Bod went through difficult times, strongly affected by fire and earthquakes.
The Romanesque basilica with a bell tower built in the 13th century was partially destroyed by fire only two centuries later. Starting with the late 18th century, the events precipitated: the bell tower collapsed only to be rebuilt nine years later. But after three years the church was massively destroyed by an earthquake, together with its fortification wall. The polygonal wall with outer bailey and defence towers was almost completely dismantled after this episode.
Today in Bod one can admire the church built in 1806, whose tower damaged by the earthquake in 1977 was subsequently stabilized. The interior of the church houses the altar from 1869, which forms a whole together with the organ built in 1816. Original bells, dating back to Catholic times were destroyed when the tower collapsed. One bell that escaped the damages of war and further two bells made of bronze in 1922 accompany the Sunday service today.
Place and surroundings
Although the inhabitants of the village Bod have endured many strokes of fate over the centuries, they never gave up. Thus their eventful history can be nowadays traced on the church in the centre of the village.
After the village was first mentioned in the 14th century, the number of devastating attacks increased: only between 1421 and 1658 the village has been set aflame and burned almost completely at least 5 times. During the same period the villagers were forced to participate in building the fortification of the town of Brașov and also to contribute with construction materials.
Between 1718 and 1719 the plague caused around 500 victims in Bod. In 1779 floods caused major damage, closely followed by two earthquakes (1790-1802) that caused new destructions. To all these two major fires in 1844 and 1867 are added, which affected extensive ares of the village.
However the villagers have repeatedly rebuilt and repaired the church. In recent years the building underwent significant repairs due to the involvement of the Federal German Government and of the Saxons emigrated from Bod.