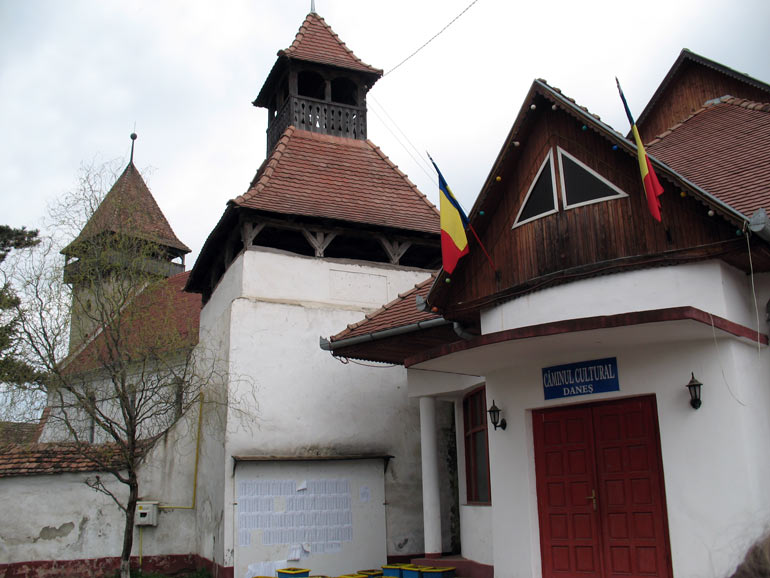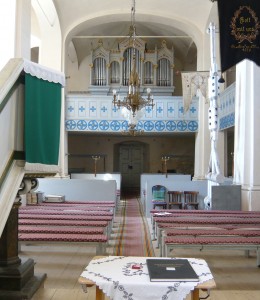 The small tower-less late Gothic church in Daneş was built in 1506. The tower was much later erected in 1927, as well as its defence levels, probably as a sign of self-assertion towards the 1918 new Romanian state and as a symbol for the 800 years of Saxon history in Transylvania. From the original defence wall only a few remains on the south side and a gate tower with a small watchtower are still preserved. The inner furniture dates back to different time periods: the baptismal font and the pulpit are Baroque, the altar is from 1878 and the organ from 1920. The vault covering the church's hall was built in 1868.
Place and surroundings
The village of Daneş, located few miles west from Sighişoara was documented for the first time mid-14th Century. The reports from the following years describe many difficulties and misery. Due to the great poverty of the place, between 1503 and 1507 a tax rebate was documented. Around 1507 the village burned down completely. Less than 50 years later, the unfortunate happening occurred again in 1555. At the beginning of the 17th Century the place got broke as result of civil wars and the number of the local farmers fell in just 15 years from 90 to 7. Because of the slow development of the village, tax exemption and other benefits were offered starting with 1656 to any colonist willing to settle here, but the success was only moderate. In 1658 the Ottoman troops attacked and destroyed the village once more. Only from 1665 colonists coming from Sighişoara were able to revive the place. Despite all the problems, the fortified church wrote its own history, as regular worship services are still regularly held today, as it has always been starting with the 16th Century.