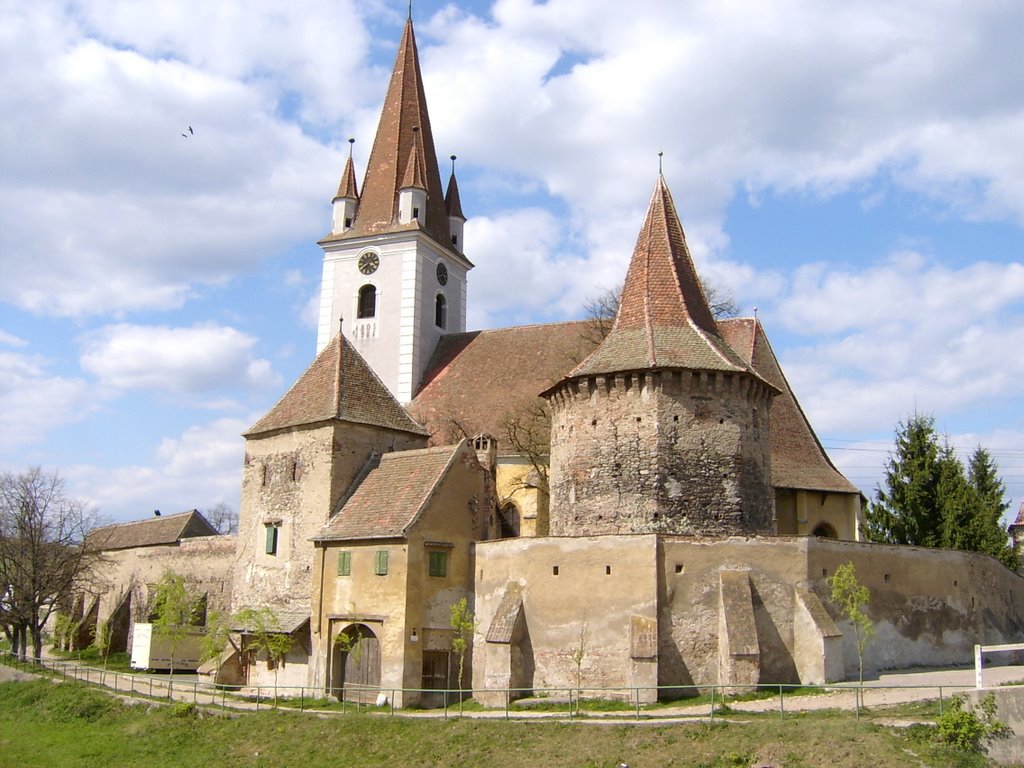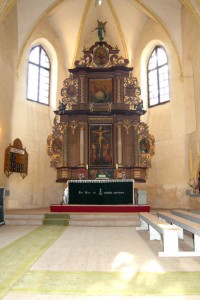 The second largest community from the Sibiu Chair (former administrative unit) brought important changes to the initial Romanesque church: in the 14th century a polygonal chancel flanked by two side chapels was added and the master-builder Andreas Lapicida coordinated the rising of the side aisles and the substitution of the central nave's arcades by piers. A late Gothic vault was unfurled over the central nave. The Romanesque western tower was heightened through the annexation of a defence floor, which was later on replaced by the present tower roof. The double defense wall encloses a small outer ward, which was completed on the northern side with a forecourt around 1550. The impressive inner furnishing dates back to the 18th century and is dominated by the richly decorated Baroque altar from 1729. Cristian is one of the first three villages to be repopulated starting with 1756, after the plague had decimated the residents, through the colonization of protestants – Landlers – forcefully sent in from the Catholic Vienna.
Place and surroundings

Cristian developed mid-12th Century not only as one of the first Saxon settlements in Transylvania, but it was also established in the same time as many historical towns in middle England. The place flourished beautifully in Sibiu's vicinity and became soon one of the largest communities in the region.
A harsh event is said to have occurred here mid- 17th Century: a large ottoman army marching from Sibiu towards Alba Iulia was persuaded by a local noble to spare the fortified church in Cristian. However, when a villager under Bacchus influence suddenly started shooting at the passing troops, these attacked back. Nevertheless, the army could not occupy the church tower defended by the villagers, so wood and straw have been brought and the building was torched. The people choked to death and the entire village was burned to ashes.
Even today Cristian and its fortified church are besieged every year by air raids: a great number of stork pairs have built their nests here and nurse around 80 chicks each year.
Tourism
The parish house inside the fortified object offers accommodation in a unique ambience.
Information & Reservation
Parish Office Turnișor
+40/269/228 865
gemeindebuero@kirche.neppendorf.de).
Partner
HOG Großau www.grossau.de