Cisnădie / Heltau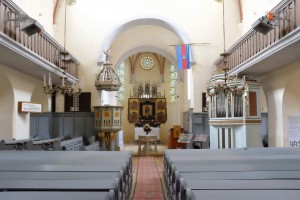 Today the church still exhibits the basic characteristics of the three-aisle Romanesque basilica that originally had a six-level western tower. The ensemble was surrounded by a ring wall, which was fortified starting in 1430, when the Ottoman attacks occurred. A second fortification wall was built, as well as several defence towers and a moat. The church itself was also strengthened: defence towers were built above the chancel and its apse and above the two side entrances. The western Romanesque portal is ornamented with typical interlace. The spire roof with corner towers was built as early as 1591. Especially valuable are the altars from other village churches, which are displayed inside. These were brought to Cisnădie for safety reasons.
Place and surroundings
The legend of the fortified church of Cisnădie tells us that a great treasure was once hidden inside. After numerous Ottoman attacks in the 15th Century the village community built a secret chamber within the castle walls. Access was secured with a massive oak door, which could only be opened by pressing a hidden spring. From the outside, the entrance was camouflaged so well that only few insiders could find it. Not even the priests knew about it. Over the centuries, the knowledge of this hidden entrance got lost. At the beginning of the 20th Century it was rediscovered and can be visited today.In addition, not secretly hidden, but visible from far away visitors can spot the first clock tower in Transylvania, which is operated since 1425, and the first lightning rod in Transylvania dating back to 1795.The bell ringer of Cisnădie provides expert guided tours of the fortification and the church affiliated museum and has many more stories and legends to share.
Church Services and Events
In the church of Cisnădie there is a church service every Sunday at 10 o'clock. During the summer months all visitors are invited to a carefree get-together after the service where coffee and cake are usually served. Furthermore there are many events to celebrate the Christian holidays within the walls of the fortification. They are all organized by the very active congregation of Cisnădie. Further information can be obtained on the website of the Parish.